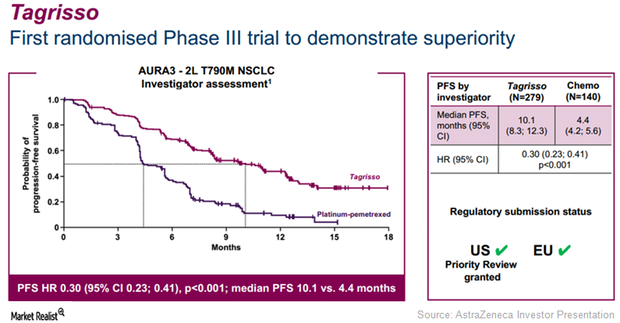 Durvalumab and Tagrisso May Boost AstraZeneca's Revenues in 2017
By Margaret Patrick

Nov. 20 2020, Updated 2:05 p.m. ET
Durvalumab growth prospects
On December 9, 2016, the FDA accepted for review its first-ever biologics license application (or BLA) submitted by AstraZeneca (AZN). It seeks approval for investigational PD-L1 monoclonal antibody durvalumab as a second-line therapy for patients suffering from locally advanced or metastatic urothelial cancer, which is a type of bladder cancer. These patients have already been treated previously with a platinum-based chemotherapy regimen. Since this application has secured priority review, the FDA is expected to declare its decision for durvalumab in 2Q17.
If durvalumab manages to secure regulatory approval as therapy for bladder cancer, it may have a positive impact on share prices of AstraZeneca as well as those of the Vanguard Total International Stock ETF (VXUS). AstraZeneca makes up about 0.17% of VXUS's total portfolio holdings.
Article continues below advertisement
Tagrisso growth trends
On December 6, 2016, AstraZeneca announced positive data from its phase 3 trial, AURA3, which compared efficacy of Tagrisso with chemotherapy as a second-line treatment option for non-small cell lung cancer (or NSCLC) patients with the epidermal growth factor receptor (or EGFR) T790M mutation. Based on this data, FDA has granted priority review designation to Tagrisso's application for second-line NSCLC indications. The company is also trying to expand Tagrisso's label for this indication in European markets. To know more about label expansion plans for Tagrisso, please refer to Label Expansion May Boost Revenues for AstraZeneca's Tagrisso.
Tagrisso has enabled AstraZeneca to pose tough competition to other NSCLC players such as Merck (MRK), Bristol-Myers Squibb (BMY), and Roche Holdings (RHHBY).
Other drugs
AstraZeneca has also filed regulatory applications seeking approval for Faslodex as first-line breast cancer therapy both in the US and the European Union. Plus, the company has also initiated clinical trial recruitment to evaluate combination therapy of durvalumab and tremelimumab (or durva and treme) for head and neck cancer.