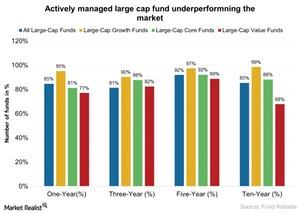 Do Actively Managed Funds Perform Better in the Long Run?
By Mary Sadler

Updated
Actively managed funds are losing investor confidence
Investors seem to be shifting from actively managed funds to passive funds in order to get higher returns. Portfolio managers typically select stocks on the basis of in-depth analysis to outperform market indexes such as the S&P 500 (SPX-INDEX) and the Dow Jones Industrial Average Index (DJIA-INDEX).
But lately, the performances of actively managed funds are under the microscope since they haven't been able to provide expected returns. In the graph below, you can see the performances of some large-cap funds and compare them to their benchmarks over the last ten years as of June 30, 2016.
Article continues below advertisement
Can actively managed funds do well in the long term?
Actively managed funds are expected to perform better in the long term, as you can see in the above graph. Active investing can provide higher returns if you buy actively managed products and stay invested longer during market corrections. You can usually avoid losses during market corrections by staying invested when the markets are down, provided there's a capital preservation strategy.
According to the SPIVA U.S. Scorecard, as of June 2016, about 84.6% of large-cap managers, 87.9% of mid-cap managers, and 88.8% of small-cap managers underperformed the S&P 500 (SPX-INDEX), the S&P MidCap 400, and the S&P SmallCap 600, respectively. Investors tend to lose when they get into a selling spree when the markets are down or if there's a correction.
Performance is slightly better if you compare large-cap performances. In the last ten years, 85.0% of large-cap funds, 99.0% of large-cap growth funds, 88.0% of large-cap core funds, and 68.0% of large-cap value funds underperformed their respective benchmarks. As of June 30, 2016, value managers across all three market cap ranges fared better than their core and growth counterparts.
Paul Schatz, president and chief investment officer of Heritage Capital, believes that now is the time to invest in actively managed funds since you can gain from the 2017 rally and then stay invested for the long term.
Fund performances in 2016
Most actively managed funds posted negative returns in 2016. Actively managed funds that rose in 2016 include the Vanguard Capital Opportunity Investor (VHCOX), the Fidelity Magellan (FMAGX), and the JPMorgan Growth Advantage A (VHIAX). They rose 5.0%, 2.0%, and 1.0%, respectively. Benchmark indexes such as the iShares S&P 500 Growth (IVW) and the iShares Russell 1000 Growth (IWF) rose 5.0% each in 2016.
The recent rally in US equities will most likely benefit cyclical sectors and companies such as those in the automobile (F) (FCAU), airlines (AAL), and hotel (HLT) sectors.
In the next part of this series, we'll take a look at the low volatility index and the recent surge in the markets.