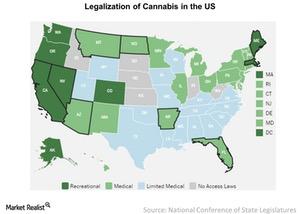 How Scotts Miracle-Gro Is Embracing Cannabis
Legalizing cannabis
In the previous part of this series, we looked at two categories that Scotts Miracle-Gro (SMG) is focusing on—hydroponics and organics. Its core business is lawn and gardening, which is highly seasonal and in its mature stage.
When the use of cannabis was made legal in Colorado in 2012, it opened a window of opportunity for businesses such as Scotts Miracle-Gro, Central Garden & Pet (CENT), Spectrum Brands (SPB), and Seaboard (SEB). Cannabis could support growth for this industry (SOIL).
Article continues below advertisement
Growing acceptance of cannabis
In the United States, according to the National Conference of State Legislatures, 44 states have laws supporting the use of cannabis (or marijuana) for either medical or recreational purposes. That's been the primary catalyst of the recent surge in Scotts Miracle-Gro stock. However, the Trump administration could have an impact on that industry. We'll look at some recent updates in the later parts of this series.
CEO speaks
In an interview with Forbes in July 2016, Scotts Miracle-Gro's CEO (chief executive officer) Jim Hagedorn admitted that he has embraced the cannabis industry since its legalization in certain US states. It's a fairly new US industry and would provide a valuable entry point to players that are active in the plant growing business.
Cannabis is usually grown indoors where conditions for growing plants are less optimal. SMG's acquisition within the hydroponics and indoor lighting space may help solve these issues.
However, since cannabis is now legal in many states, you might wonder why there's a need to grow it indoors when the operations no longer need to be kept under wraps. The answer may lie in yield efficiency with hydroponics, as we saw in the previous part of this series.
Next, let's look at analysts' financial projections for Scotts Miracle-Gro in the near term.