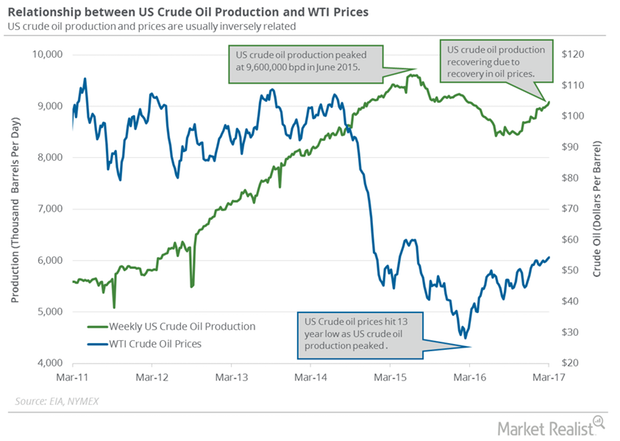 Crude Oil Prices Fell below the 200-Day Moving Average
Crude oil prices  
April WTI (West Texas Intermediate) crude oil (RYE) (PXI) (USL) futures contracts fell 1.6% and closed at $48.49 per barrel on March 10, 2017. Broader markets like the S&P 500 (SPY) (SPX-INDEX) and the Dow Jones Industrial Average rose 0.3% and 0.2%, respectively.
Crude oil prices fell 9% in the last three trading sessions. They're trading at a three-month low due to the following:
Article continues below advertisement
US crude oil prices and moving averages
Crude oil prices have been range-bound between $50 and $54 per barrel between December 2016 and early March 2017. Prices broke below $50 per barrel on March 9, 2017, due to the massive rise in US crude oil inventories.
April crude oil futures are below their 20-day and 50-day moving averages of $52.5 and $52.7 per barrel as of March 13, 2017. Crude oil futures broke below the 200-day moving average of $48.7 per barrel on March 9, 2017. It suggests that prices are experiencing bearish momentum. Bearish momentum suggests an additional fall in crude oil prices. Volatility in crude oil prices impacts oil and gas exploration and production companies' earnings such as Hess (HES), ExxonMobil (XOM), Carrizo Oil & Gas (CRZO), and PDC Energy (PDCE).
Last week, the United Arab Emirates' energy minister said that record US crude oil inventories and a rise in US crude oil production are bearish for oil prices.
What's in this series? 
In this series, we'll look at the energy calendar, US crude oil's (XLE) (XOP) (USO) highs and lows in the last 12 months, Cushing crude oil inventories, the US crude oil rig count, and some crude oil price forecasts.
Let's look at the US dollar and how it impacts crude oil prices in the next part of this series.