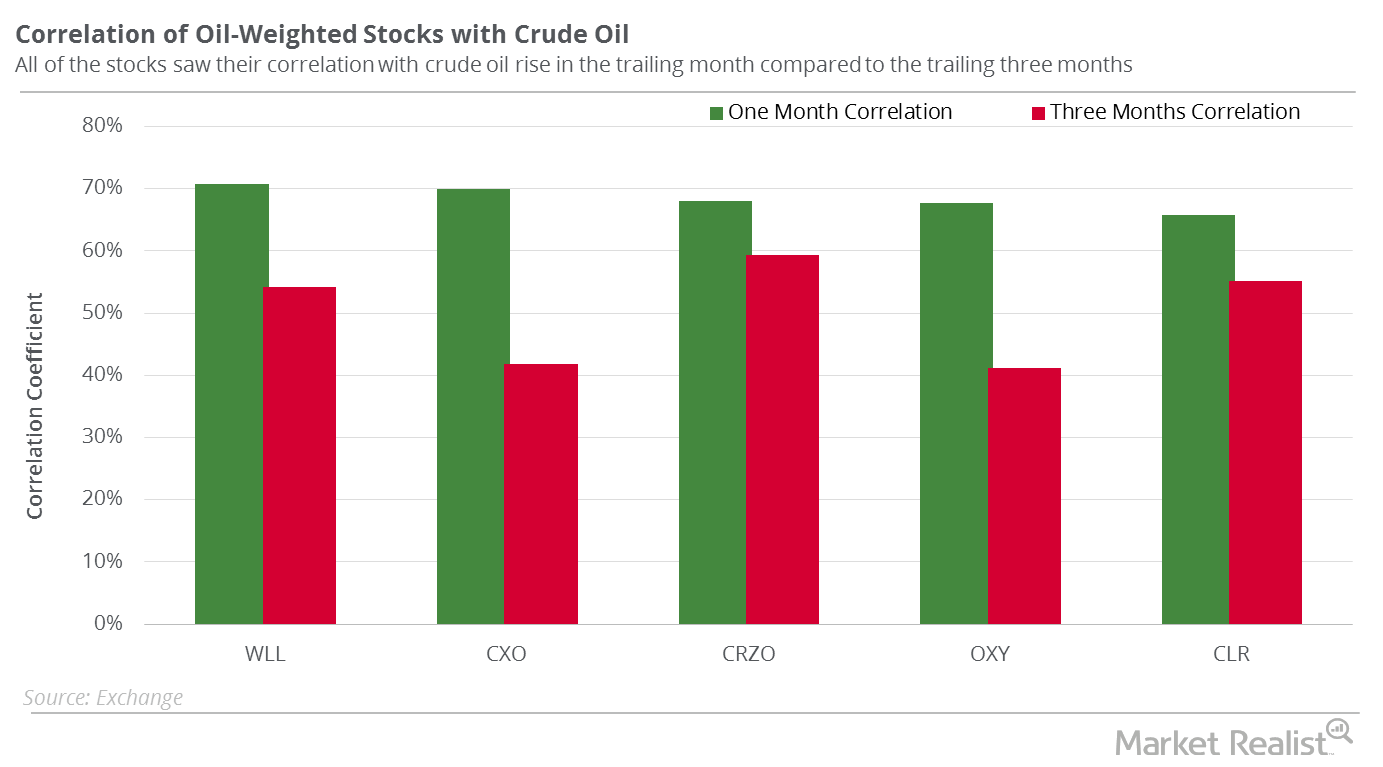 Crude Oil Falling to $30? Which Oil-Weighted Stocks to Avoid
US crude oil
In the trailing week, the Energy Select Sector SPDR ETF (XLE) fell 2.2%, while the S&P 500 Index (SPY) (IVV) (VNN) (SPX-INDEX) fell 1.3%. The Dow Jones Industrial Average (DIA) (DJIA-INDEX) fell 1.7%, and the technology-heavy NASDAQ Composite (COMP-INDEX) (QQQ) fell 1% during the same period. Crude oil is an important driver of energy ETFs. It can also impact broader markets.
Article continues below advertisement
According to an OPEC (Organization of the Petroleum Exporting Countries) report, OECD (Organisation for Economic Co-operation and Development) commercial crude oil stockpiles reached 3.0 billion barrels, 278 million barrels above the five-year average, in January 2017. In February 2016, US oil prices fell below the $30 level due to rising oil inventories and production.
Oil prices have been weak lately because of concerns about rising US oil production. The US oil rig count rose by 21 units to 652 in the week ended March 24, 2017. Rising rigs means higher oil production, which could have a negative impact on crude oil prices.
On March 27, 2017, active oil futures were trading at a discount of $2.18 to 12-month forward futures contracts, compared to $1.93 on March 24, 2017. The rise in the futures spread could point to investor concern about the crude oil demand-supply balance.
In this series
In this series, we'll take a look at the correlations between crude oil–weighted stocks and crude oil. We'll also look at the correlations between natural gas–weighted stocks and natural gas.
Oil-weighted stocks
First, let's look at upstream companies' correlations with crude oil. These companies are part of the SPDR S&P Oil & Gas Exploration & Production ETF (XOP) and operate with production mixes of at least 60.0% in crude oil.
Below are the oil-weighted companies that had the highest correlations with WTI crude oil from February 27, 2017, to March 27, 2017:
The oil-weighted stocks in XOP that had the lowest correlations with crude oil during the period were as follows:
If you're bearish on crude oil, you may want to avoid stocks that currently have high correlations with crude oil in order to realign your portfolio.
In the next part of this series, we'll look at the returns of crude oil–weighted stocks compared to crude oil.