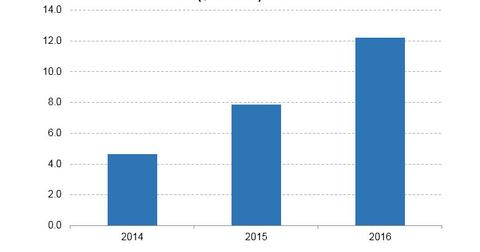 Could This Amazon Dream Lead to an AWS-Like Breakthrough?
By Ruchi Gupta

Updated
Space tourism talks increasing
Jeff Bezos, Amazon's (AMZN) chief executive officer, has been talking lately about space tourism and permanent settlement on the moon. He has also talked about Amazon being able to deliver supplies to moon settlers, and he believes it could happen as soon as 2020.
Article continues below advertisement
Who knew AWS would be what it is today?
You can't dismiss Bezos as just being "crazy." Oracle's (ORCL) co-founder Larry Ellison once dismissed one of Amazon's ideas, cloud computing, and now Oracle is paying for it. AWS (Amazon Web Services) is miles ahead in cloud infrastructure with quarterly revenues of more than $3.0 billion. Oracle is just beginning to take baby steps with quarterly revenue of about $178.0 million in its most recent quarter. The above graph shows the trend for AWS revenue for the last five quarters.
Nobody probably knew Amazon's idea of cloud data centers would transform the world of IT (information technology) as it did just a decade later. So when Bezos talks about the moon and space tourism, maybe we should start wondering if another transformative undertaking such as AWS is in the works.
Bezos and Musk—dreams of space tourism
Amazon's Bezos owns a space company called Blue Origin. He dreams of creating Blue Moon spacecraft that would ferry people and goods to the moon. According to the Washington Post, Bezos has already shared his idea of delivering people and packages to the moon with NASA (National Aeronautics and Space Administration) and some officials of the Trump administration.
Bezos's dream of space tourism seems to align with the dream of Elon Musk, the founder of Tesla (TSLA), the electric vehicle company, and his space company SpaceX.
If what Bezos touches turns to gold, then Oracle, Microsoft (MSFT), and International Business Machines (IBM) probably won't want be left behind in the space race.