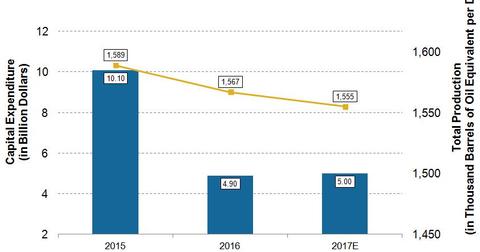 ConocoPhillips Has Guided for Marginally Higher Capex in 2017
By Nicholas Chapman

Updated
ConocoPhillips's 2017 capex guidance
For fiscal 2017, ConocoPhillips (COP) expects capex (capital expenditure) of $5.0 billion, which is marginally higher by $100.0 million compared to $4.9 billion in fiscal 2016.
In 2017, COP plans to spend more capital for short cycle unconventional programs in the lower 48 states and considerably less capital in Canada compared to 2016.
Article continues below advertisement
Why ConocoPhillips guided for $5.0 billion in capex
ConocoPhillips has predefined its cash allocation priorities. It talked about these priorities in its AIM (Analyst and Investor Meeting) presentation on November 10, 2016. According to the presentation, its first priority is to invest sufficient capital to maintain flat production and pay its existing dividends.
COP also said in the presentation that it will be able to keep production flat with less than $1.0 billion per year to support base production and less than $4.0 billion per year to replace its base decline. That means that COP needs less than $5.0 billion per year to keep its production flat for the next five years.
During the company's 4Q16 earnings call, Ryan Lance, COP's chairman and chief executive officer, said, "Our first call on cash flows is to invest capital to maintain our production and pay our existing dividend, and we're reiterating our 2017 CapEx plan of $5 billion which can achieve this priority."
Production guidance
Since COP's 2017 capex is designed to keep production (USO) UNG) flat, the company expects 2017 production of 1,540–1,570 Mboe (thousand barrels of oil equivalent) per day and a midpoint fall of ~12.0 Mboe per day. That's less than a 1.0% fall from its 2016 production of 1,567 Mboe per day.