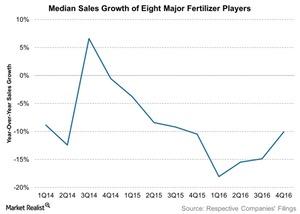 Fertilizer Sells: 8 Companies' Sales in 4Q16
By Adam Jones

Updated
Top-line performance
Agricultural fertilizer companies that sell NPK (nitrogen, phosphorus, and potassium) fertilizers (SOIL) faced severe headwinds in 2016 due to falling fertilizer prices, which extended well into the fourth quarter. However, 4Q16 sales did show signs of recovery.
Sales growth
Median sales fell 10% YoY (year-over-year) in 4Q16. However, this was still a significant improvement from the 18% fall in sales in 1Q16, as you can see in the chart above. Now let's take a granular look at sales growth by individual companies.
Top and bottom performers
Among the above companies, CVR Partners (UAN) was the only one to experience a YoY sales growth of 29% to $84.9 million in 4Q16. Terra Nitrogen (TNH) was hit the hardest in 4Q16, with sales falling ~38% YoY to $93 million. CF Industries (CF) and PotashCorp (POT) both experienced 22% sales declines to $867 million and ~$1.1 billion, respectively.
Meanwhile, fertilizer behemoth Mosaic (MOS) saw its sales fall 14% to ~$1.9 billion, while Israel Chemicals' (ICL) sales fell 6.2% to ~$1.3 billion over the same period. Agrium (AGU) experienced a YoY fall in sales in 4Q16 to ~$2.3 billion, while Intrepid Potash's (IPI) sales fell just 1% to $42 million.
We'll continue our discussion in the next part of this series by looking at fertilizer shipments and prices.