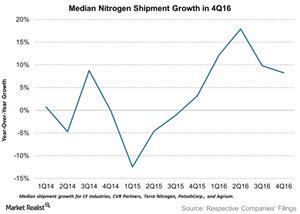 Nitrogen in North America: What the Top 5 in Fertilizer Indicate
By Adam Jones

Updated
Nitrogen shipment
Previously in this series, we looked at the top line performances of fertilizer producers (XLB) in 4Q16. For such companies, revenue is a function of shipments and the average realized prices of fertilizers. While many companies sell multiple fertilizer types, we'll proceed by comparing performances according to individual NPK (nitrogen, phosphorus, and potassium) fertilizer types.
Article continues below advertisement
Overall growth
During 4Q16, the nitrogen shipments of five key North American producers listed on the stock exchange rose 8%, or by a volume of 8.2 million metric tons YoY (year-over-year). We should note here, however, that North America continues to remain a net importer of nitrogen fertilizers. Now, let's look at shipment growth by individual companies.
CVR Partners leads again
Among the five companies in the chart above, CVR Partners (UAN) saw the highest YoY shipment growth, rising ~46% to 355,000 metric tons during 4Q16. CVR partners' acquisition of a facility in Illinois continues to add to the shipment growth of the company.
CF Industries (CF) followed, with shipments growing by 18% YoY to 4.7 million metric tons during the quarter. Terra Nitrogen's (TNH) shipments rose 8% YoY, which is right at the median in the first chart above, to 572,000 metric ton.
At the bottom
The above three companies exclusively produce and sell nitrogen products, while PotashCorp (POT) and Agrium (AGU) sell all three NPK fertilizers and are pending a merger. Both companies saw their nitrogen shipments rise by 5% apiece in 4Q16.
PotashCorp's nitrogen shipments grew to 1.6 million metric tons YoY, while Agrium's nitrogen shipments grew to 0.95 million metric tons YoY.
In the next part of this series, we'll look at nitrogen fertilizer prices by type.