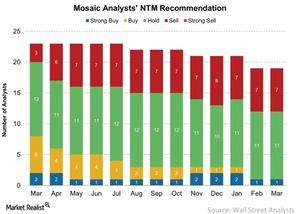 Changes in Mosaic's Recommendations and Price Target in March
Mosaic
Like other fertilizer companies, Mosaic's performance has been rough lately, which is evident in the stock's performance. Mosaic (MOS) is the largest producer of phosphate fertilizer globally but also has exposure to potash fertilizers.
The outlook for phosphate prices remains subdued, which is the primary reason for the company's weakness in earnings. You can track phosphate and other fertilizer prices weekly with Market Realist, including Fertilizer Stocks and Commodity Prices in the Week Ended March 10.
Article continues below advertisement
Analysts' recommendations
On March 13, 2017, only one of the 19 analysts covering Mosaic (MOS) stock gave the company a "strong buy" recommendation for the next 12 months, which was down from two in our February update. Like PotashCorp (POT) and Agrium (AGU), Mosaic has a high concentration of recommendations, with 11 analysts recommending a "hold" over the next 12 months.
Seven analysts have a "sell" recommendation for the stock, and none of them gave it a "strong sell," which remained unchanged from last month. With more analysts recommending a "hold" or a "sell," the market environment for Mosaic still appears weak for the next 12 months.
Price target
For the next 12 months, Wall Street analysts have given Mosaic a price target of $28.43, which was slightly lower than $28.60 in our February update. However, MOS stock closed at $29.12 on March 13, 2017, which is 2.4% above that target price. Investors (XLB) appear more optimistic than analysts about Mosaic's performance over the next 12 months.
Next, we'll take a look at analysts' recommendations and their price target for CF Industries (CF).