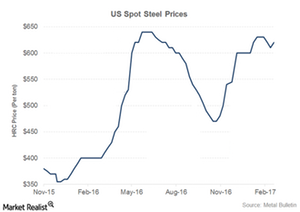 Can US Steel Prices Provide Upside for Cliffs's 2017 Earnings?
By Anuradha Garg

Updated
Steel supply and demand
Just like the prices of other commodities, steel prices depend on steel supply-and-demand dynamics. Steel has seen a change in its fortunes this year. In the first half of 2016, high anti-dumping duties were major drivers of imported steel. President Donald Trump's election was also a positive catalyst for the US steel industry.
Article continues below advertisement
Steel price movements
The above graph shows recent movements in HRC (hot-rolled coil) prices. Spot HRC prices are often seen as a benchmark for other product categories. According to data compiled by Metal Bulletin, HRC prices fell to $470 per ton in October 2016. Prices have been rising since then. Spot HRC prices ended 2016 at $600 per ton, and the average for January was $618 per ton.
Why is Cliffs optimistic?
During Cliffs's 4Q16 earnings call, CEO (chief executive officer) Lourenco Goncalves sounded optimistic about US steel prices in 2017. In fact, he gave 2017 EBITDA (earnings before interest, tax, depreciation, and amortization) guidance based on the HRC average of $618 per ton for January 2017.
He sees an upside to the price after that. During the call, he maintained that he expects the average steel price for January to be "at least sustained throughout the year, if not improved."
Goncalves is optimistic about Trump's stance as well as the pickup in demand in the United States.
Article continues below advertisement
Steelmakers' ability to raise prices
Steelmakers' ability to raise prices will affect Cliffs Natural Resources' (CLF) realizations. United States Steel (X) announced a $30 rise in flat rolled steel products in October 2016. Some other producers, including AK Steel (AKS), have followed suit.
As reported by Barron's, ArcelorMittal (MT) raised its HRC prices $40 per ton to $600 per ton in November 2016. But in 4Q16, there was an overall sequential fall in the average selling price for most steelmakers.
There's optimism, however, that in 2017, steel companies will continue to benefit from anti-dumping duties and domestic steel demand due to an infrastructure push. Further price hikes by steel producers, backed by lower imports and higher demand, could be very positive for Cliffs's volumes and realizations.
To avoid the hassles of picking individual stocks, you may want to consider the SPDR S&P Metals and Mining ETF (XME). Currently, XME has invested more than half of its holdings in US-based steel companies.
We've looked at the demand-and-supply scenario in the United States, so let's shift our focus now to seaborne iron ore demand-and-supply, which could significantly affect Cliffs Natural Resources' fortunes.