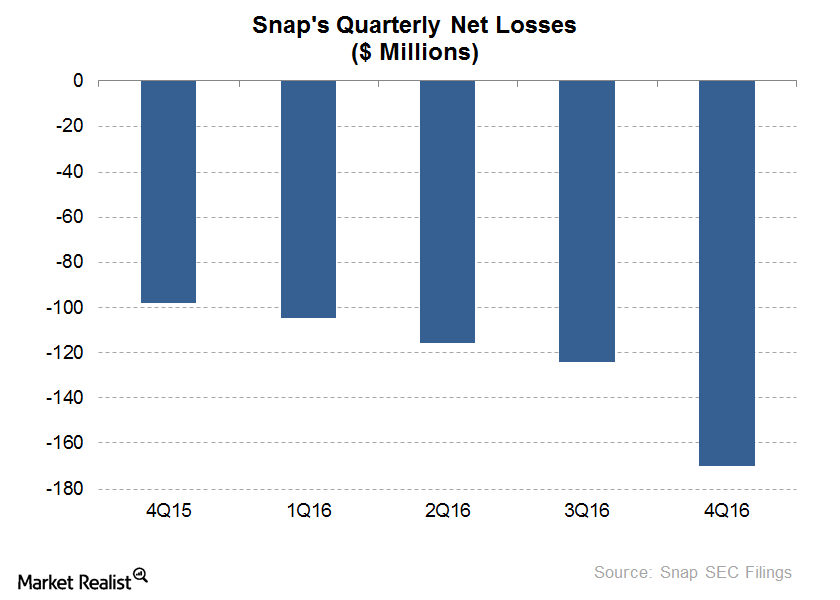 Can Facebook Give Worried Snap Investors Peace of Mind?
Snap's losses complicate the picture
As discussed in the previous part of the series, Snap's (SNAP) post-IPO (initial public offering) performance so far has elicited mixed reactions on Wall Street. Worries about Snap's future are compounded by the company's loss-making operations. The chart below shows Snap's quarterly losses.
Article continues below advertisement
Snap wanted to be seen as a new Facebook
In preparation for the IPO, Snap appeared to portray itself as a new Facebook (FB) rather than Twitter (TWTR). While Twitter largely disappointed its IPO investors, Facebook impressed investors, not just because of stock appreciation, but also continued growth of its user base and revenues.
However, Facebook's IPO was far from being smooth, and a similar fate could be waiting for Snap. Facebook's stock plunged nearly 24% from its opening price in the first week, according to FactSet data. The stock didn't recover from the troubled IPO until after the first year. On the other hand, Twitter remained fairly strong in the first week and first year after the IPO, but its upward movement stalled soon after, and the stock hasn't recouped its losses.
Long-term future detached from first week or year
While Snap's recent steep stock decline may worry investors, historical IPO data show that first-week and first-year performances following an IPO usually have little bearing on the long-term prospects of a company as Facebook has demonstrated. Thus, Facebook can be an inspiration to worried Snap investors.
Like Facebook with Oculus Rift, Snap is also into the gadgets business with Spectacles sunglasses. The gadgets move is seen as a measure by Snap to diversify its revenue streams. Snap describes itself as a camera company rather than a social media company, but it is unclear whether it intends to take on GoPro (GPRO) and Canon (CAJ) in the camera hardware business.