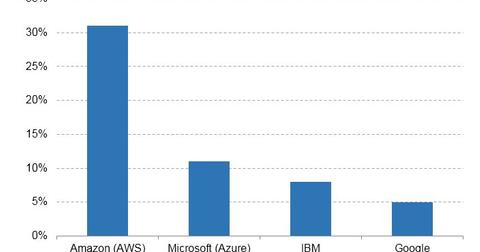 Can Amazon Beat Oracle in the Cloud?
By Ruchi Gupta

Updated
Going for each other's throat
Amazon (AMZN) and Oracle (ORCL) have made no secret of their desire to bring each other down in the cloud computing market. In particular, Oracle has been talking tough recently, calling Amazon's cloud outdated and altering its software licensing terms in ways that make Amazon Web Services (or AWS) look expensive. 
Amazon, on the other hand, is gunning for Oracle's database market share as it seeks to grow its cloud revenues and defend its market share.
Article continues below advertisement
Oracle gunning for top spot in the cloud
With both companies bragging about their achievements and potential, the focus is on who could win the dogfight. Oracle sees itself turning the tables on Amazon and Microsoft (MSFT) in the cloud infrastructure segment, where it is currently significantly dwarfed by the two leaders. The chart above shows the ranking of cloud vendors by market share, based on estimates by research firm Synergy Research Group.
Oracle is using strategies such as increasing prices for customers who run its software on AWS instead of its native cloud, which is a way to discourage its customers from moving to foreign clouds. It's also a strategy to persuade those who have made the move to return to the fold.
Amazon is a threat to Oracle's database business
Amazon could leverage its dominance in the cloud infrastructure market to steal Oracle's share of the database market. The company could begin by pitching its own database services to Oracle customers who run their applications on AWS. With some price concessions and a pool of compelling database products, Amazon could give Oracle a run for its money.
The problem is that Amazon has a long way to go to catch up in the database market given Oracle's entrenched position in that space. Amazon is also busy working to defend its market share from being stolen by not just Microsoft and Oracle, but also IBM (IBM) and Alphabet's (GOOGL) Google.