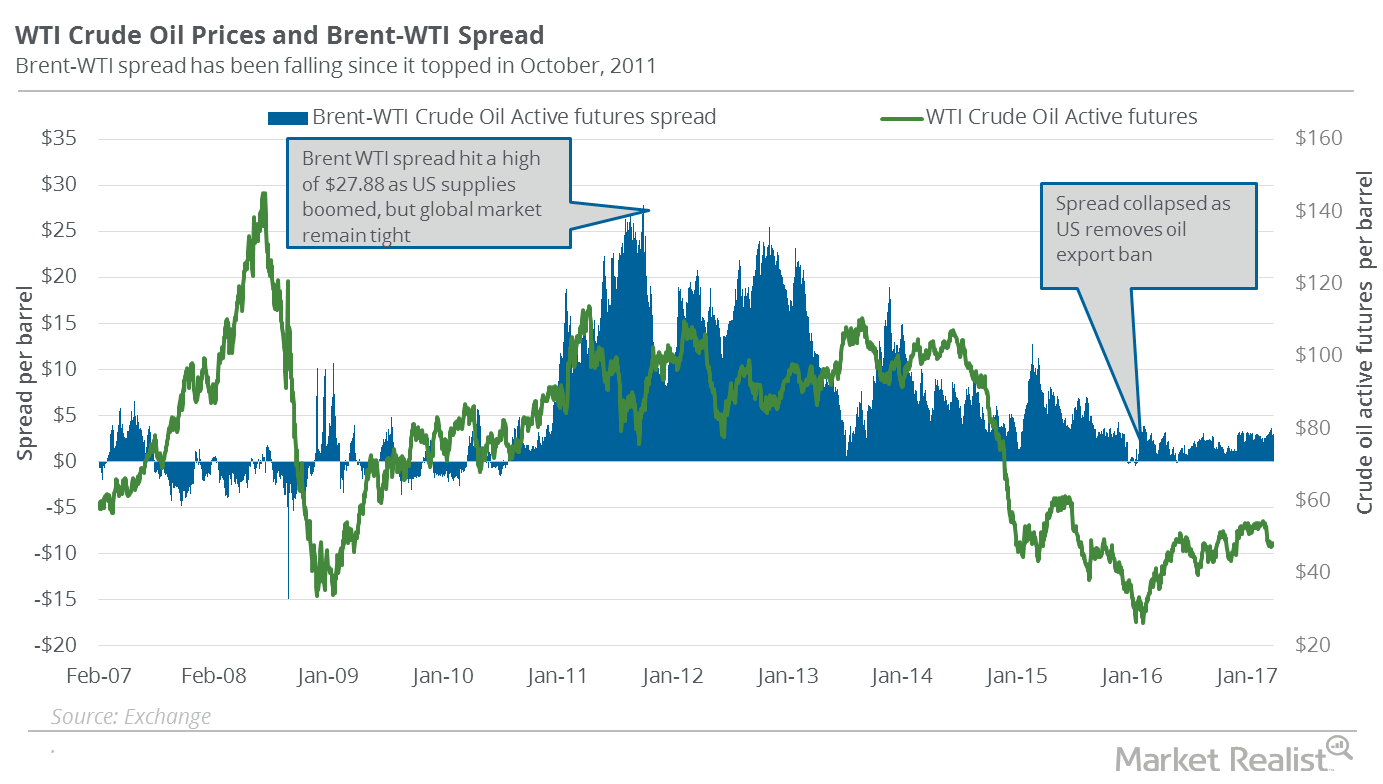 Brent-WTI Spread: Why It's Crucial for Energy Investors
By Rabindra Samanta

Dec. 4 2020, Updated 10:51 a.m. ET
Brent-WTI spread
Although far below its 2011 peak, the Brent-WTI spread has risen since the OPEC (Organization of the Petroleum Exporting Countries) deal in November 2016. A reduction in global crude oil supply outside the United States, driven by the OPEC cuts and accompanied by the rising US supply, could explain why the Brent-WTI spread has expanded.
Recently, talk of OPEC extending its cuts to the second half of this year and indications of fresh record high US crude oil inventories have caused the expansion in the spread. The spread widened to $2.96 on March 28, 2017, compared to $1.58 on February 28, 2017.
Article continues below advertisement
What impacted the Brent-WTI spread?
Historically, WTI and Brent crude oil have traded close to each other, but WTI crude oil is easier to process. It's also produced in the United States, the world's largest demand center. For the most part, WTI has previously traded at a small premium to Brent.
Around 2011, US oil production started booming due to high prices and technological advances that unlocked its vast shale deposits. Along with rising imports from Canada, that caused a rise in supply in North America. But US crude oil previously couldn't be exported. There also wasn't enough transportation capacity to get the booming inland supplies to the main demand center for oil on the US Gulf Coast, which has most of the US refining capacity.
The turning point
By October 2011, US crude oil production rose to 5.9 million barrels per day, the highest level since July 2002. In the meantime, countries such as China gained dominance as demand centers for crude oil–derived fuels. In October 2011, WTI crude oil active futures traded at a discount of $27.88 per barrel compared to Brent oil active futures, which was a record high.
After various oil pipeline projects became functional in 2013, the spread gradually narrowed. The United States removed the ban on domestically produced oil exports in December 2015. As a result, the Brent-WTI spread flipped into negative territory for the first time in five years. On January 15, 2016, WTI crude oil active futures traded at a premium of $0.48 to Brent crude oil, the highest since August 16, 2010.
Why the Brent-WTI spread should matter
The spread between Brent crude oil (BNO) and WTI crude oil (UWTI) prices impacts US upstream producers (XOP), midstream transporters (AMLP), and downstream refiners (CRAK).
When US WTI crude oil is cheaper than Brent crude oil, it means that US upstream producers receive less money than their international counterparts for each barrel of oil they produce. However, the situation is more profitable for downstream US refiners because their input cost is lower in this situation.
If WTI's discount to Brent is deep enough to cover shipping and transportation costs, it could also be an opportunity for upstream or midstream companies to seek higher prices outside North America through exports.