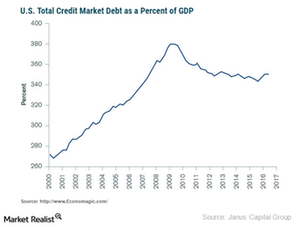 Gross on Rising US Credit Level: Lehman Brothers, Anyone?
By Sarah Sands

Updated
Gross's March 2017 Investment Outlook
Billionaire investor Bill Gross shared his views on the rising global credit level, the limitation of having excess credit in the economy, his concern for the return of the investment, and his view on the Trump administration in his March 2017 Investment Outlook.
Article continues below advertisement
Gross on US credit
According to Bill Gross, the growing credit level in the global economy (ACWI) (VTI) has reached an alarming level. The global credit level as a percentage of its GDP is rising. Gross said in his investment outlook, "in 2017, the global economy has created more credit relative to GDP than that at the beginning of 2008's disaster."
In the United States (QQQ) (SPY) (VFINX), the credit level reached $65 trillion, which is nearly 350% of the country's GDP (gross domestic product). Gross pointed out that "our highly levered financial system is like a truckload of nitroglycerin on a bumpy road."
Anyone catching a faint whiff of Lehman?
The rising credit level is a warning sign for the economy, and Gross believes that this situation may trigger a crisis like the 2008 global debt crisis. The excess leverage created a bubble in the economy, and Gross believes that the current situation bears a sharp resemblance to the Lehman Brothers' bankruptcy situation.
Just before the Lehman Brothers' bankruptcy, the company's balance sheet was fully leveraged and its liabilities were backed by housing-related assets, whose value decreased gradually after the crisis. In the current scenario, central banks are facing the same situation because their balance sheets are so highly leveraged. (For more on this, check out Market Realist's "Bill Gross: Central Banks Are Hurting Global Economic Equilibrium.")
Continue to the next part for a look at Bill Gross's view on China's growing credit level.