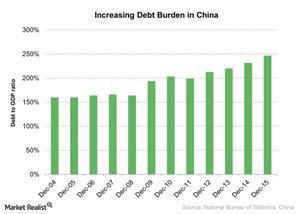 Bill Gross Says China's Credit Level Ballooning
By Sarah Sands

Mar. 21 2017, Updated 7:36 a.m. ET
Bill Gross on China's credit
In the preceding part of this series, we discussed how Bill Gross is concerned about the rising global credit level. More specifically, he's worried about China's (YINN) rising credit level. Currently, China's (MCHI) (FXI) (ASHR) credit level is 300% of its GDP.
In the past ten years, the total credit to GDP ratio has more than doubled. This ballooning credit could be fatal for China's economy.
Billionaire investor George Soros had previously stated that "Most of the money that banks are supplying is needed to keep bad debts and loss-making enterprises alive." If a significant part of this credit is converted into repaying bad debt and non-performing assets, it could lead to a serious economic crisis.
In the United States (QQQ) (VFINX) (IWM), the soaring credit level and real estate bubble were the prime causes of the financial market crash in 2008.
Article continues below advertisement
Where does China's economy stand?
China's financial markets already crashed in August 2015. However, the total debt-to-GDP ratio is still too high, at 277% in 2016. The total public debt-to-GDP ratio for the United States (SPXL) (VOO) (SPX-INDEX) in 2007 was 62%.
Notably, the Chinese economy grew 6.8% in the fourth quarter of 2016, which was above expectations. But the recent rise in China's credit facility is the main concern for this economy.
China's ETF performance
In the past year, the iShares China Large-Cap (FXI), which tracks the performance of China, rose nearly 16%. Over this period, the S&P 500 Index rose nearly 15.7%, and the iShares MSCI Emerging Markets ETF (EEM) rose 15.8%.
In the next part of this series, we'll analyze Bill Gross's view on the cost of credit.