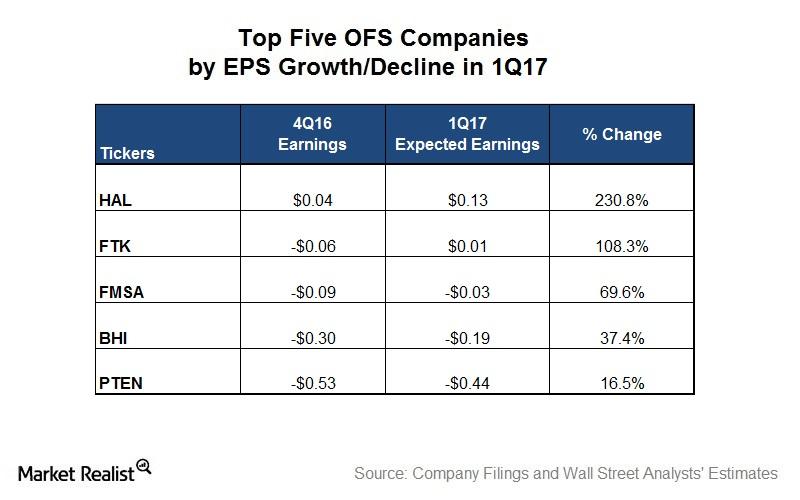 Best Oilfield Services Stocks for 1Q17 by EPS Growth
Halliburton: The outperformer in EPS
Among our group of OFS (oilfield services and equipment) companies, Wall Street analysts expect Halliburton (HAL) to see the highest rise in adjusted EPS (earnings per share) in 1Q17. It's worth noting that adjusted EPS excludes nonrecurring items such as impairment charges, restructuring charges, and gains or losses from extraordinary items.
Halliburton is expected to post $0.13 in adjusted EPS for 1Q17. That's a 231.0% rise over 4Q16. HAL's earnings could improve primarily from an incremental margin rise in North America, higher revenues from the Eastern Hemisphere and Latin America, and the reactivation of cold stacked equipment.
HAL saved ~$1.0 billion of annualized costs in 2016 from various cost-reduction initiatives. In comparison, HAL's peer Baker Hughes (BHI) could see ~37.0% more net loss in 1Q17 over the previous quarter.
Article continues below advertisement
Flotek Industries' expected EPS in 1Q17
Flotek Industries (FTK) is expected to have a significant improvement in its adjusted net EPS in 1Q17 over 4Q16. Its adjusted EPS, as expected by analysts, is $0.01 in 1Q17 compared to -$0.06 in 4Q16. FTK's 1Q17 earnings will find support in increased well completion activity, better pricing, and operation expansion in Asia, the Middle East and Eastern Europe. FTK makes up 0.17% of the iShares Micro-Cap (IWC).
What could improve Fairmount Santrol's earnings in 1Q17?
Fairmount Santrol Holdings' (FMSA) adjusted loss per share is expected to improve from $0.09 in 4Q16 to $0.03 in 1Q17. The improvement could stem from a strong proppant demand, sustainable improvement in pricing in 2017, and infrastructure improvement. You can read more about FMSA in Market Realist's Fairmount Santrol's 4Q16: A Mixed Story in 4 Parts.
Next, we'll take a look at the five OFS companies with the steepest expected falls in EPS for 1Q17.