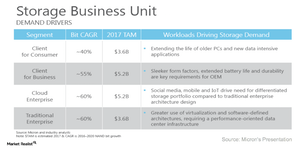 Behind Micron's Plan to Leverage Its Storage Portfolio
By Puja Tayal

Apr. 4 2017, Updated 9:06 a.m. ET
Cloud versus enterprise
Micron Technology's (MU) Vice President of Storage, Darren Thomas, recently noted that spending on the cloud is growing at a rate of 30%, while overall IT (information technology) spending is growing at a rate of 18%. Cloud experiments with new technology and refines it, and once the technology has been proven, enterprises follow. Remember, right now, banks and hospitals hold critical information that they're not willing to risk on the cloud, which businesses use more often to store non-critical information.
But the cloud will likely remain a key growth driver not only for Micron, but also for Intel (INTC), Nvidia (NVDA), and Advanced Micro Devices (AMD), which use memory chips in their server chips and accelerators like GPUs (graphics processing units).
Article continues below advertisement
5100 SSD series
Cloud companies demand consistent performance throughout the product's life. Micron's new 5100 SSD (solid state drive) series is smaller and 99% better than an HDD (hard disk drive). This SSD has four times the storage space of the next nearest HDD and delivers 66% savings compared to an equivalent HDD, according to Micron.
3D NAND devices
Micron offers single level, multiple-level, and triple-level cell 3D NAND (negative AND), and the company is now developing quad-level cell. These 3D NAND devices can scale from 0.25 terabyte to 8 terabytes, giving cloud customers the much-needed scalability to perform heavy workloads.
Micron made some architectural changes to improve the durability of the drives. Their drives range from less than one fill per day to more than three fills per day. The company offers a flexible architecture in SSD, where the customer can choose storage memory chips based on drive size, performance, capacity, and security.
Article continues below advertisement
Flexible architecture
Micron's CMOS (complementary metal-oxide-semiconductor) under the array technology has helped it shrink the size of the device and make smaller capacity devices for the mobile industry. The company recently introduced a client SSD aimed at the lower-end cloud market. It did this by adding some firmware features that aren't relevant for the client market but are still important for the general cloud market.
Such flexible architecture helps Micron move NAND between enterprise and consumer, mobile and storage, and client and cloud.
Security of Micron's chips
Meanwhile, Micron has been offering security features such as its AES 256 gigabit with unbreakable encryption. If a physical device is stolen, for example, no one else can open the laptop with this security feature. In fact, the drive is so secure that if a customer loses his password, it cannot be fixed. The company claims to be the only one to offer FIPS (Federal Information Processing Standard).
With all these offerings, Micron is aiming to tap into the opportunities arising in the storage market.
In the next part, we'll look at the company's embedded business.