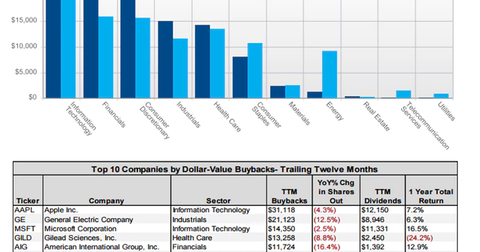 Apple Leads Tech Companies in Share Buybacks
By Adam Rogers

Updated
Apple paid $3.1 billion in dividends
On February 16, 2017, Apple (AAPL) paid $3.1 billion in dividends to its shareholders. Apple has paid ~$12 million in dividends to its shareholders over the last four quarters. Apple also repurchased $11 billion in shares during the quarter ended December 2016. Apple has repurchased $31 billion in shares over the last four quarters.
While a robust capital return improves shareholder value, share repurchases positively impact a company's earnings per share (or EPS) metrics as well.
Article continues below advertisement
Tech firms lead in share buybacks
In its December 2016 report, FactSet stated that the IT sector spent the most in buybacks among all industries, as the chart above shows. Among the top ten companies that spent the most on share buybacks, three belonged to the tech sector. Apple spent the most, followed by tech (QQQ) heavyweights Microsoft (MSFT) and Oracle (ORCL).
Apple's status as the biggest spender on buybacks doesn't come as a surprise, as it holds ~$246 billion in cash. More than 90% of this cash is held overseas. The majority of tech companies, including Microsoft, typically keep their cash outside the United States as a way to reduce their tax burden.
Apple stated that it has completed $201.0 billion of its $250.0 billion ongoing capital return program. Taking past returns into consideration, Apple plans to pay shareholders $250.0 billion by the end of March 2018.