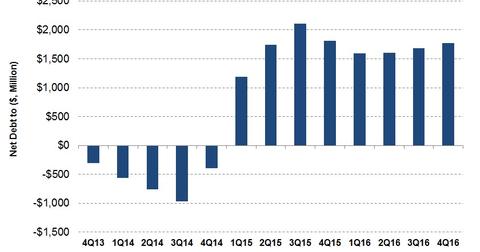 Analyzing National Oilwell Varco's Debt—A 2% Year-over-Year Fall
By Alex Chamberlin

Updated
National Oilwell Varco's net debt
National Oilwell Varco's (NOV) net debt[1. total debt minus cash and marketable securities] decreased 2% in 4Q16 over 4Q15. Its net debt totaled ~$1.8 billion in 4Q16. Net debt equals its aggregate short-term and long-term debt minus its cash and cash equivalents.
Article continues below advertisement
Tidewater's debt and waiver extension
On March 3, 2017, Tidewater (TDW), an offshore service vessel provider to offshore energy producers, received another extension of debt covenant compliance waivers until March 13, 2017. Tidewater's net debt was ~$1.4 billion in 4Q16. You can read more about issues related to TDW's debt covenant in Did Tidewater's Waiver Extension Revive the Market's Outlook?
Flotek Industries's (FTK) net debt was $43.5 million in 4Q16, while Nabors Industries (NBR) had net debt of $3.3 billion.
National Oilwell Varco's indebtedness
National Oilwell Varco's (NOV) total debt decreased ~18% in 4Q16 over 4Q15. Its cash and marketable securities decreased 31% during the same period. In effect, its net debt has decreased marginally in the past year. However, compared to 3Q16, its net debt actually increased. From 4Q13 to 4Q14, NOV's net debt was negative as a result of a higher cash balance compared to its total debt.
NOV's trailing 12-month (or TTM) EBITDA,[2. earnings before interest, tax, depreciation, and amortization] a measure of operating income, crashed in 4Q16. Its net debt-to-EBITDA ratio (or indebtedness) jumped sharply in 4Q16.
National Oilwell Varco comprises 0.07% of the iShares Russell 1000 ETF (IWB). For investors looking for broad-based exposure to the energy sector, energy makes up 6.3% of IWB.
You can learn more about the oil and gas industry on Market Realist's Energy and Power page.