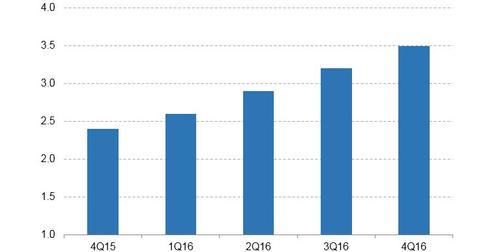 Amazon–Workday Deal Signals Strategy to Bring Rivals to AWS
By Ruchi Gupta

Updated
Recruiting cloud customers through third parties
The recent deal between Amazon (AMZN) and Workday (WDAY) hints at a strategy to create AWS (Amazon Web Services) customers among Amazon's rivals. It can be loosely compared to the decision by eBay (EBAY) to separate PayPal (PYPL) into a standalone company. That move freed PayPal to do business with eBay's competitors without those competitors feeling that they are backing a rival.
Although the case of Amazon and Workday is a little different, these companies seem to have a common theme—using a third party to benefit from a competitor's spending. The chart below shows Amazon's annual cloud revenue trend.
Article continues below advertisement
Profiting from competitors' spending
Under the recent Amazon–Workday deal, Amazon would use Workday's cloud payroll and human resources services to manage its global workforce. In turn, Workday is using AWS to deliver some of its cloud-based payroll and HR software.
Workday's payroll and HR software and services are also used by Amazon's rivals such as Walmart (WMT). According to Fortune, Walmart has ~1.5 million employees in the US and ~2.3 million workers worldwide. Through Workday and other enterprise software providers such as Salesforce (CRM), Amazon is indirectly recruiting AWS customers among its fierce rivals.
Salesforce signed up to use AWS for four years at an annual cost of $400 million to relay its cloud-based sales and customer management software. The financial details of the Amazon–Workday deal weren't disclosed.
Fending off cloud competition
The strategy of using third-party companies to recruit AWS users could help Amazon protect its cloud computing dominance. This strategy could help Amazon profit from spending by traditional retailers that are aggressively expanding online.
In the next article, we'll discuss Amazon's stance on the Trump administration's protectionist policies.