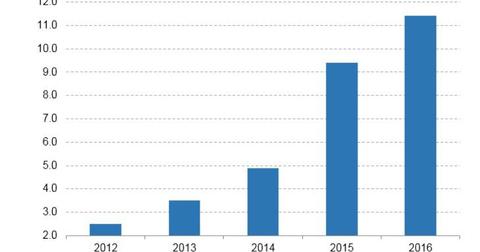 Amazon Looks to Widen Its Lead in the Home Automation Hub Market
By Ruchi Gupta

Updated
A $78.3 billion market
E-commerce giant Amazon (AMZN) has adopted an open-systems strategy for home automation. This strategy could be the leverage the company needs to maintain a strong lead over the competition in the connected home market.
The market for home automation systems such as Echo by Amazon and Google Home by Alphabet (GOOGL) is expected to be worth $78.3 billion by 2022, according to research firm MarketsandMarkets. Although Amazon doesn't disclose sales of its Echo smart speakers, independent surveys have shown that the company dominates the home automation systems space. The chart below shows projections for the home automation systems market.
Article continues below advertisement
Easy integration
Amazon (AMZN) has made it easy for third-party developers to integrate its voice-controlled digital assistant, Alexa, into their products so they can be operated through the Echo smart speaker. Developers who want their products to work with Echo can submit their software code to Amazon for a review, and the products don't need to contain special chips.
According to a Reuters report, about 250 devices have been approved to work with Echo, compared with just 100 devices certified to plug into Apple's (AAPL) HomeKit platform. The significantly higher number of third-party Echo-enabled devices compared with the competition could be a direct consequence of Amazon's simple integration requirements.
As for Apple, third-party products seeking HomeKit integration must contain a special chip. Plus, the products must be tested in Apple's labs in Cupertino, California. Apple doesn't have a native home automation hub like Echo, but reports indicate that the company is quietly working on a similar product. If Amazon maintains friendly Echo integration requirements, it could widen its lead over the competition.
Revenue diversification
Amazon's (AMZN) expansion into the home automation space is a way to diversify revenue streams and strengthen the company's core e-commerce business. Competition is tough in the e-commerce space as legacy retailers such as Walmart (WMT) and Target (TGT) expand their online presence.
In the next article, we'll look at Amazon's transparency reports.