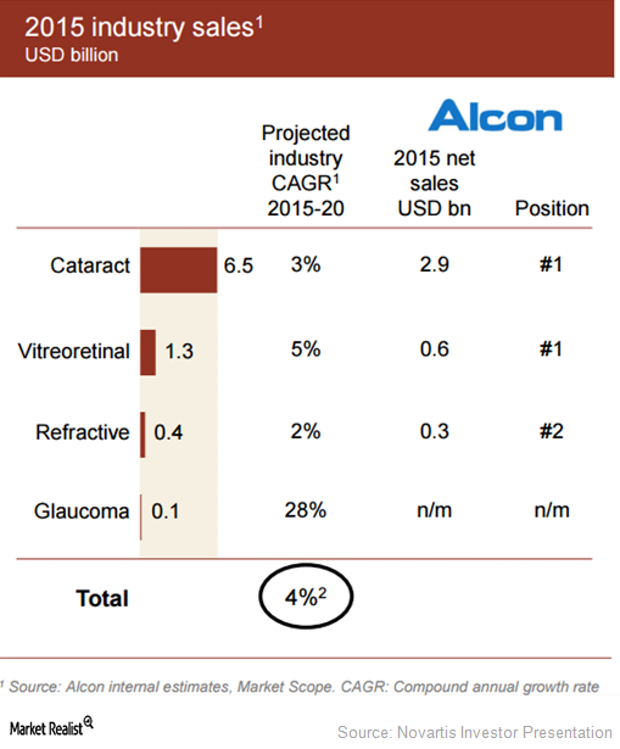 Does Novartis See Much Potential for Its Surgical Business?
Review process
In 2017, Novartis (NVS) has planned to conduct a review of its Alcon segment to evaluate the business's growth potential. Based on this review, the company will decide the future trajectory for this business, which could include retaining Alcon, spinning off the business, conducting an IPO, or selling off the business. The review, however, doesn't include the pharmaceutical business from the original Alcon, which was acquired by Novartis.
Article continues below advertisement
While the vision care business demonstrated solid growth trends in 2016, Alcon's surgical business couldn't post robust performance owing to supply and service problems. These issues have delayed the turnaround of the intraocular lenses (or IOL) business and also affected the company's equipment business. Owing to these problems, competitors such as Patterson Companies (PDCO), Alere (ALR), and Hologic (HOLX) have managed to capture a significant portion of Novartis's surgical market share.
Market opportunity
The above diagram shows that the optical surgical business in the US is expected to grow at a compound annual growth rate of around 4% from 2015 to 2020. The aging population and millennials continue to fuel the rising demand for these surgical services. Plus, global demand for advanced technology intraocular lenses (or AT-IOL) such as toric lenses and multifocal lenses is rising. Improving diagnostic procedures have also helped in better disease diagnosis rates. Finally, there has been a steady improvement in market access to new technologies in emerging markets.
In 2016, Novartis posted year-over-year (or YoY) revenue growth of around 4% for its cataract consumables subsegment in the surgical business.
If Novartis's revenue growth continues in 2017, it could have a positive impact on the Vanguard Total International Stock ETF (VXUS). Novartis makes up about 0.76% of VXUS's total portfolio holdings.