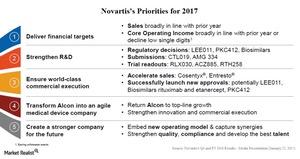 A Look at Novartis's Financial Guidance and Priorities for 2017
By Mike Benson

Updated
Novartis's financial guidance for 2017
Novartis (NVS) announced its 2017 financial guidance during its 2016 results in January 2017. 
The company expects to absorb the impact of generic competition and expects its 2017 sales to be in line with its 2016 revenue at a constant exchange rate.
Regarding profitability, the company's core operating income is expected to remain in line with its 2016 income, or it could report a low single-digit fall. Novartis's priorities for 2017 are focused on adopting new operating models and creating a stronger company.
Article continues below advertisement
Research and development
Novartis is focused on developing new products to help it increase its revenue and absorb the revenue losses that followed the generic competition of existing products. Two of its drugs for which regulatory decisions are expected soon are as follows:
LEE011, an investigational drug in combination with letrozole for the treatment of HR+/HER2- advanced breast cancer
PKC412, an investigational drug for the treatment of acute myeloid leukemia
Both drugs have been granted priority review designations by the FDA. Other regulatory decisions are expected for biosimilars.
Novartis is also going to submit new drug applications for CTL019, an investigational drug for the treatment of acute lymphoblastic leukemia in children, and AMG334, an investigational drug for the treatment of migraines, developed in partnership with Amgen (AMGN).
Transformation of Alcon 
Novartis wants to transform Alcon, its eyecare segment, into an agile medical devices company by strengthening its innovation and commercial execution, including strong marketing to accelerate sales.
Improved marketing
Novartis has prioritized world-class commercial execution for accelerating the sales of its new drugs Entresto and Cosentyx.
To divest risk, investors can consider ETFs such as the PowerShares BLDRs Europe 100 ADR ETF (ADRU), which holds 8.1% of its total assets in Novartis, 3.3% in Novo Nordisk (NVO), and 1.9% in Teva Pharmaceutical (TEVA).