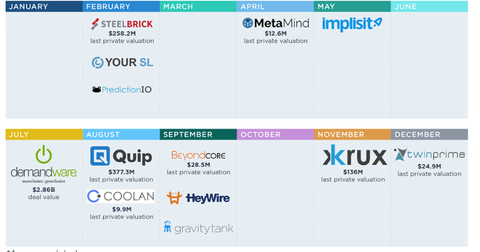 Will Salesforce Continue Its Buying Spree in 2017?
By Anne Shields

Updated
Salesforce's acquisition spree
Earlier in this series, we discussed Salesforce's (CRM) recent acquisition of Sequence. We also looked at why companies such as Salesforce and IBM (IBM) are increasingly drawn towards the digital agency space.
Of late, Salesforce has been on an acquisition spree. Since 2006, Salesforce has made 44 acquisitions, according to Crunchbase. In the past five years, Salesforce has added 35 companies to its acquisition portfolio. Close to a quarter of Salesforce's 44 acquisitions, worth over $4.6 billion, were completed in 2016, making it the biggest year of acquisitions for the company.
Most of Salesforce's acquisitions in 2016 focused on AI (artificial intelligence). In 2016, Salesforce (CRM) also announced the launch of Salesforce Einstein, an AI platform. Salesforce claims it is "the world's first comprehensive artificial intelligence platform for CRM."
Other industry leaders joined the acquisition frenzy in 2016. Major acquisitions included deals between Microsoft (MSFT) and LinkedIn (LNKD), Symantec (SYMC) and Blue Coat Systems, Salesforce and Demandware, and Oracle (ORCL) and Netsuite.

Article continues below advertisement
Investors' skepticism of Salesforce's buying spree
Salesforce has adopted an acquisition strategy similar to IBM's (IBM)—that is, to push strategic imperatives and seek revenue growth. Both Salesforce and IBM chose the acquisition route to diversify their offerings, develop domain expertise, and record revenue growth. It is yet to be seen if Salesforce intends to continue its acquisition spree in 2017 or shifts its focus more towards integration. If Salesforce intends to diversify its offerings portfolio or still feels certain gaps need to be filled, we will see more buyouts announced this year.
According to TechTarget, The Carruthers Group president Karl Becker shared his opinion, stating that "if the tech market continues to be attractive for acquisition opportunities, then we should expect to see ongoing strategic acquisitions from Salesforce." The Carruthers Group is a marketing and sales consultancy.
However, investors have been skeptical of Salesforce's increasing acquisitions, as suggested by their reaction and the subsequent drop in Salesforce's stock price when it showed interest in Twitter (TWTR). Such buyouts are believed to put pressure on the company's cash reserves and margins and cause its share price to fall, impacting shareholders.