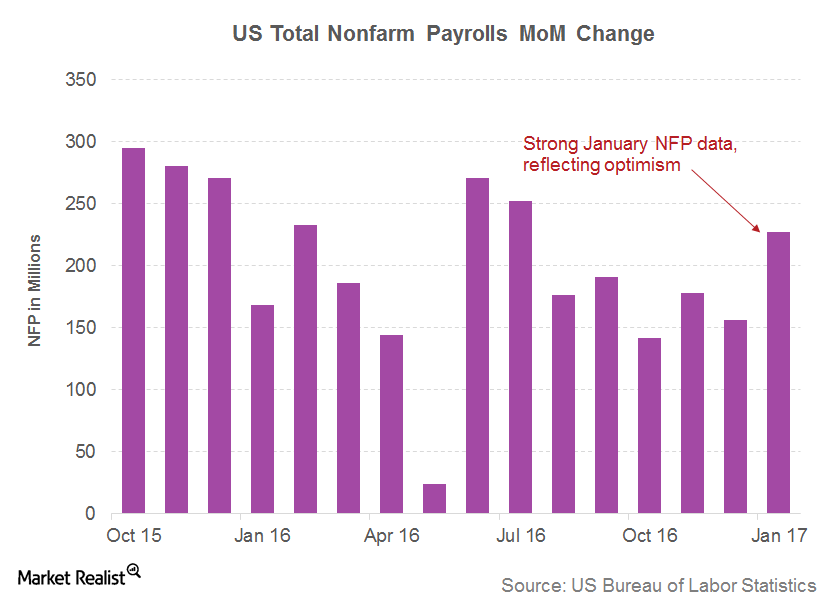 Will Improving US Employment Data Boost Auto Sales?
January non-farm payrolls
NFP (non-farm payroll) reflects the number of jobs added or lost each month. In the first week of February 2017, the U.S. Bureau of Labor Statistics released the employment situation summary for January 2017.
The NFP change figure for January stood at 227,000, much higher than 157,000 in the previous month and higher than the market's expectation of 170,000.
Note that an earlier December NFP change of 156,000 was revised to a higher figure of 157,000, which added optimism.
Article continues below advertisement
US employment growth
January's NFP non-seasonally adjusted data stood at 141,000, lower than December 2016's level of 146,000. Sectors such as construction and financial services were among the top areas in which employment continued to grow positively in January.
Impact on auto sales
Among all other major indicators in the auto industry, NFP data act as an important indicator, because lower employment growth paired with falling wages could hurt consumers' power to buy more expensive consumer goods such as automobiles.
Despite weakness in December 2016, the US job market showcased significant improvement in January 2017. Last year's strong US jobs market was among the reasons behind the Federal Reserve's decision to hike interest rates 25 basis points in December.
Note that mainstream automakers (XLY) including General Motors (GM), Ford Motor Company (F), Fiat Chrysler (FCAU), and Toyota Motor (TM) make the majority of their revenues from the US market.
In the next article, we'll look at preliminary consumer sentiment data for January 2017.