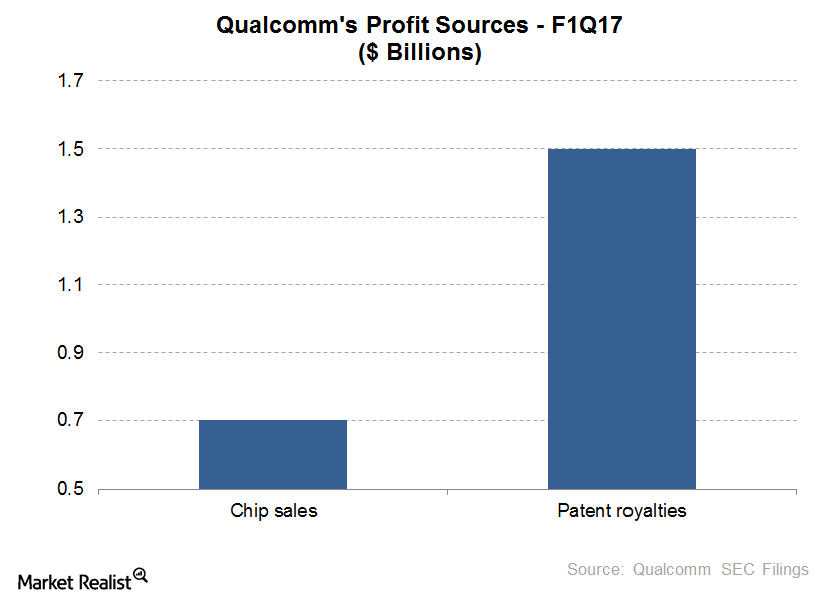 Why Qualcomm's Growing Legal Challenges Threaten Its Bottom Line
Licensing generates more profits
Qualcomm (QCOM) hasn't had much peace recently as it has faced pressure from customers and regulators over its technology licensing practices. The risks in this environment are many. Qualcomm could continue losing money in fines and the settlement of antitrust issues, thereby eating into its bottom line.
Meanwhile, mandated changes in its royalty model, which force the company to charge less for its technology, could take a serious hit on its profits. Its licensing business contributes most of Qualcomm's earnings. In the December quarter, the company's fiscal 1Q17, licensing unit contributed $1.5 billion in pre-tax profits—more than double $724 million from the chip division.
Article continues below advertisement
Stifling innovation
As attacks on Qualcomm's most profitable business increase, the company could also face pressure in funding its research and development programs, which might inhibit innovation and put its long-term future at risk.
China forced Qualcomm to pay $975 million to settle a 2015 antitrust probe in the country and South Korea is also seeking $868 million from the company to settle similar claims. Qualcomm is also facing charges in the US because of allegations of unfair licensing practices, according to the Wall Street Journal.
Qualcomm's CEO, Steve Mollenkopf, lamented during the company's last earnings call that while they prefer to settle disputes through negotiations, some of their customers are choosing the litigation path. Apple (AAPL) is one of those customers as it has sued Qualcomm over unfair patent enforcement.