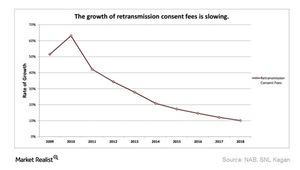 Why Is Time Warner Still Optimistic about Affiliate Fees Growth?
By Shirley Pelts

Dec. 4 2020, Updated 10:52 a.m. ET
Affiliate fees for Time Warner
Media companies like Time Warner (TWX) derive their revenues primarily from affiliate fees and advertising. Affiliate fees are the carriage fees paid per month per subscriber by MVPDs (multichannel video programming distributors) like Comcast (CMCSA) and Dish Network (DISH). Time Warner expects "double-digit growth" in affiliate fees for its Turner business division in fiscal 2017.
The reason that Time Warner expects a high rate of growth for its affiliate fees in fiscal 2017 is that it continues to believe in the strength of its programming at Turner cable networks.
Article continues below advertisement
In fiscal 3Q16, Time Warner had a 15% YoY (year-over-year) growth in subscription revenues in the United States for its Turner business division. Subscription revenues comprised 57% of Turner's total revenues in fiscal 3Q16 at $1.5 billion. The rise in subscription revenues was primarily driven by the growth in affiliate fees as Turner demanded higher rates as its affiliate fees agreements came up for renewal.
Dish's retransmission fee disputes
However, pay-TV operators like Dish Network (DISH) has experienced disputes with broadcasters and networks over carriage or retransmission fees. In 2016, the company was involved in a dispute with Viacom (VIAB), Comcast (CMCSA), and Tribune Broadcasting.
The pay-TV industry is currently going through a transitional phase. Many pay-TV subscribers are severing their cable cords and moving to online content providers like Netflix (NFLX), particularly due to high cable bills. This cord-cutting has resulted in increasing pressure on revenues for pay-TV operators like Dish, and now pay-TV operators are reluctant to pay higher distribution fees to broadcast networks.
But as the chart above shows, according to a report from the National Association of Broadcasters (citing research from SNL Kagan), the YoY growth in retransmission fees is expected to slow to 10% by 2018.