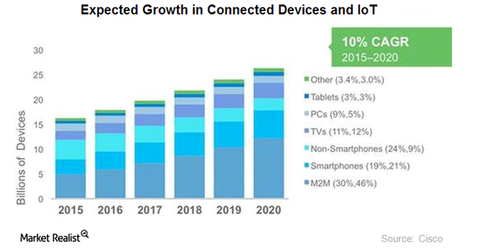 Why Is Cisco Eyeing the Internet of Things Space?
By Adam Rogers

Updated
Cisco acquired AppDynamics for $3.7 billion
In January 2017, Cisco Systems (CSCO) made headlines when it announced its acquisition of AppDynamics. Cisco offered $3.7 billion in equity and cash to AppDynamics, nearly double the $1.9 billion valuation it had received in its last funding round in November 2015, when it raised $158 million, according to TechCrunch.
AppDynamics' acquisition is expected to be completed in April 2017. Following the acquisition, AppDynamics will be included and integrated into Cisco's IoT (Internet of Things) and Applications unit.
Cisco's last large acquisition, Jasper, for which it paid $1.4 billion, is also a part of that unit. Jasper Technologies provides cloud-based IoT service platforms and has helped several companies introduce their products to the market.
Article continues below advertisement
How AppDynamics will help companies
By employing AppDynamics' software, companies can monitor applications and rectify problems across different cloud offerings from players such as Alphabet (GOOG) and IBM (IBM). As companies continue to transfer their applications to run in the data centers of various cloud providers, this monitoring capability will become more important.
Thus, Cisco's inclusion and integration of AppDynamics in its business could benefit its customers, as they will have enhanced end-to-end visibility and insight in the network.
Cisco, IBM, Microsoft (MSFT), and Salesforce (CRM) are pursuing strategies of acquisitions and partnerships to post growth in the IoT space. The reason lies in the IoT's role in the next computing cycle.
Currently, the IT (information technology) environment is dominated by SMAC (social, mobile, analytics, and cloud) technologies. However, after SMAC, VR (virtual reality), AR (augmented reality), IoT, AI (artificial intelligence), machine learning, and autonomous vehicles are the key areas that are expected to drive the $13 trillion in spending forecast for the next computing cycle.