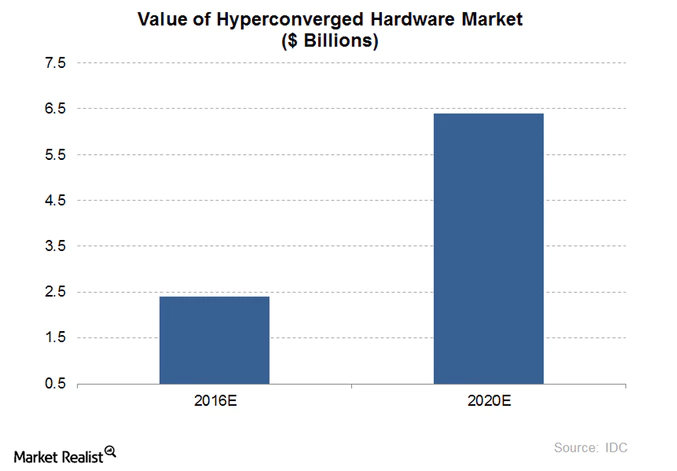 Why HPE Acquired SimpliVity
By Adam Rogers

Feb. 20 2017, Updated 9:06 a.m. ET
Deal valued at $650 million
Last month, technology (QQQ) firm Hewlett Packard Enterprise (HPE) announced the acquisition of SimpliVity for $650 million in cash. SimpliVity is one of the leading providers of hyperconverged infrastructure. SimpliVity develops a new generation of servers called hyperconverged systems that combine computing, storage, and networking capabilities in a single box. HPE acquired SimpliVity at a discount, as the latter was last valued at $1 billion, according to the Wall Street Journal.
Article continues below advertisement
"This transaction expands HPE's software-defined capability and fits squarely within our strategy to make Hybrid IT simple for customers," said Meg Whitman, president and CEO of Hewlett Packard Enterprise. "More and more customers are looking for solutions that bring them secure, highly resilient, on-premises infrastructure at cloud economics." HPE estimates the hyperconverged market will reach $2.4 billion in 2016 and expects this segment to grow at a CAGR (compounded annual growth rate) of 25% to $6 billion by 2020.
How will this acquisition benefit enterprises?
Firms with legacy IT environments need to seamlessly integrate with on-demand applications and cloud platforms. Enterprises need to make it easy for developers to store and protect data. Hyperconverged infrastructure will help firms to easily integrate storage and networking. This integration will be achieved by a user-friendly platform that requires minimal IT resources in terms of employees and set-up)
Soon after announcing the acquisition of SimpliVity, Hewlett Packard Enterprise said it was acquiring Cloud Cruiser for an undisclosed amount. Cloud Cruiser had raised ~20 million through venture financing before it agreed to sell itself. Cloud Cruiser provides a cloud analytics service that enables users to monitor and control their usage and spending on computing resources delivered over the Internet.
Hewlett Packard Enterprise wants to strengthen its remaining hardware business at a time when traditional IT vendors have been disrupted by cloud computing providers such as Amazon (AMZN) and Microsoft (MSFT).
In the hyperconverged systems market, Hewlett Packard Enterprise competes with Nutanix and Dell Technologies (DVMT). Hewlett Packard Enterprise hopes to start selling servers integrated with SimpliVity's hyperconverged systems by 2H17.