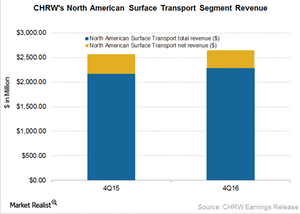 Why Did CHRW's North American Surface Transport Net Revenue Slide in 4Q16?
By Samuel Prince

Updated
CHRW's North American Surface Transport segment 
C.H. Robinson Worldwide's (CHRW) NAST (North American Surface Transport) segment is the largest segment in the company. In 4Q16, the segment contributed $363.2 million, or ~69% of the CHRW's net revenues of $561.5 million. As compared with 4Q15, the segment's net revenue in 4Q16 fell 8.8%. Let's explore the reasons behind this revenue fall.
Article continues below advertisement
What happened to this segment's revenue?
Driven by an overall volume increase across all business lines, the NAST segment's total revenue actually rose 5.1% in 4Q16. But the 8.8% decline in net revenue for this segment caused a slump in truckload net revenues. The NAST segment's truckload net revenue shrank 12.9% in 4Q16 to $261.1 million. While truckload volumes rose 10%, reduced customer pricing dragged down overall truckload net revenue in the reported quarter of 2016.
The NAST segment accounted for ~92% of CHRW's total North American truckload revenue in 4Q16. The remaining North American truckload revenue is included in the Robinson Fresh vertical. North American less-than-truckload net revenues grew 5.1%, driven by an equal rise in volumes.
The segment's intermodal revenue posted a 15.8% fall in 4Q16, driven by a reduction in net revenue margins and the alternative low-cost truck market.
Management insights
For fiscal 2017, CHRW's management expects strength in the North American truckload volumes. In January 2017, the shipment-per-business-day in this segment grew by 12%. The company anticipates high value, integrated, committed customer relationships to drive the NAST segment's revenue in fiscal 2017.
Notably, CHRW foresees that over 60% of its NAST freight will come through contracts in fiscal 2017, with the rest coming from transactions.