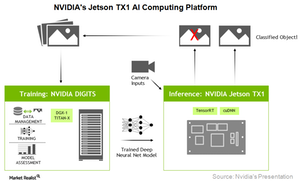 What's Nvidia's Jetson TX 1 Have in Store for Embedded System Developers?
By Puja Tayal

Updated
Nvidia's Professional Visualization segment
One Nvidia (NVDA) segment that has been reporting slow growth is the ProV (Professional Visualization) segment, which develops processors for developers. Nvidia's ProV segment revenue fell 3.3% sequentially in fiscal 3Q17 and is likely to decline further in fiscal 4Q17.
For this reason, the company is looking to boost growth in the segment by adopting its strategy of general purpose processors that can be leveraged for various applications. It has developed a general purpose Jetson TX 1 development board that helps developers add AI (artificial intelligence) and computer vision features in a majority of embedded systems.
Article continues below advertisement
Jetson TX1 development board for embedded systems
Several chip suppliers have designed development boards for specific products. For instance, Qualcomm's (QCOM) Snapdragon 820A and NXP's (NXPI) Blue Box development boards only cater to automotive applications. However, Nvidia is bringing a common development board for visual and AI computing that caters to the needs of different embedded systems by offering a range of SDKs (software development kits). Below is a rundown of such products:
The Deep Learning SDK offers TensorRT, cuDNN and DIGITS Workflow.
The Computer Vision SDK offers Vision Works and Open CV.
The GPU Compute SDK offers CUDA, CudaLibs.
The Multimedia SDK offers ISP (image signal processing) support, camera imaging, and video codec.
The Jetson TX1 platform is integrated with 256-core Maxwell GPU (graphics processing unit), 64-bit ARM A57 CPUs (central processing unit), camera inputs, wireless connectivity, memory, storage, 1-gigabit Ethernet, and 4k H.265 encode and decode IP blocks. The Jetson TX1 delivers 1 teraflops per second of performance while consuming only 10 watts of power.
Cisco uses Jetson TX1 for its Spark Board
Cisco (CSCO) has been meanwhile using Jetson TX1 for its Spark Board enterprise collaboration tool, which allows users to do a video conference, share a screen, and use an interactive whiteboard. Nvidia's DirectSylus technology has low pen-to-ink latency, giving it a natural whiteboarding experience. Jetson TX1's advanced GPUs and visuals help Spark Board deliver high-resolution video for remote participants.
With Jetson TX1, Nvidia is helping developers bring embedded systems to the market faster. While all these developments are increasing the company's capital expenditure, they are also generating strong cash flows.
Continue to the next part for a closer look at Nvidia's cash flows.