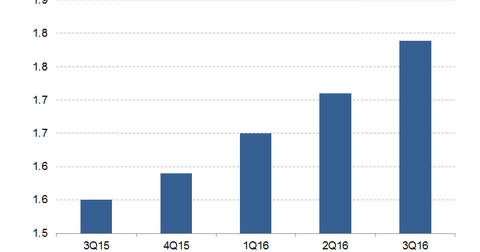 What's Facebook Want with a Danish Data Center?
By Ruchi Gupta

Updated
The facility to employ 150 workers
Facebook (FB) is investing $100 million in the constructions of a data center in Denmark, which would be its third data center facility outside the US (SPY). The company's other foreign data centers are based in Ireland and Sweden. Facebook said its Danish data center will yield 150 jobs when completed in 2020.
What is Facebook likely to gain from having a data center in Denmark? As Facebook grows, it faces the need to expand its systems to accommodate the growth. The Danish data center would help Facebook to ensure high-quality service to its large and growing user base. The company finished 3Q16 with nearly 1.8 billion subscribers. Notably, Facebook competes with Twitter (TWTR) for subscribers.
Article continues below advertisement
Addressing data residency and privacy concerns in Europe
With a Danish data center, Facebook would be able to calm the concerns over data privacy and residency in the European Union, giving it the peace of mind it needs to do business in the region. American technology companies are moving to set up data centers in Europe to keep local data in the region and avoid public backlashes over their data handling practices.
Since former NSA (National Security Agency) contractor Edward Snowden leaked that the US was spying on foreign citizens and leaders, pressure has increased on technology foreign companies operating in Europe and elsewhere to not only step up data protection but also ensure data privacy.
Microsoft (MSFT), Amazon.com (AMZN), and Alphabet's (GOOGL) Google are some of the US tech companies moving to set up data centers in the EU (European Union) to address data privacy and residency requirements.