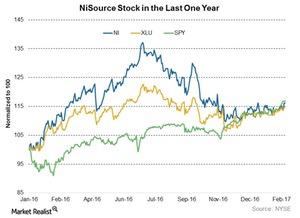 What's Ahead for NiSource Stock after Surprisingly High Volumes
NiSource experiences unusually high volumes
NiSource (NI) stock had been trending upward around this time last year. But this year, it has yet to see such action. Still, it should be noted that NiSource stock witnessed a solid surge in volumes on February 17, 2017. The total number of shares traded during the day were nearly 11.3 million, while its three-month average volume stands at under 3 million.
NiSource gained 0.13% for the day and closed at $22.70. The stock has risen 4% in the past year. The Utilities Select Sector SPDR (XLU) managed to gain more than 8% during the same period. The broader market (SPY) (SPX-INDEX) rose 22% in this period.
Remember, a sudden surge in volume is generally considered a positive sign.
Article continues below advertisement
How is NiSource valued now?
NiSource was trading at an EV-to-EBITDA (enterprise value to earnings before interest, tax, depreciation, and amortization) multiple of 8.5x, as compared to the industry average of ~10.5x. Its five-year historical average is 7.5x, and so NiSource stock seems to be trading at a premium compared to its historical average.
Remember, the EV-to-EBITDA multiple is a valuation metric that indicates whether a stock is overvalued or undervalued, regardless of capital structure.
NiSource will report its 4Q16 earnings on February 22, 2017. The company is primarily a gas utility holding company, with mostly regulated operations. It also operates in electric distribution, generating more than 65% of its total revenues from gas distribution operations and 35% from electric operations.