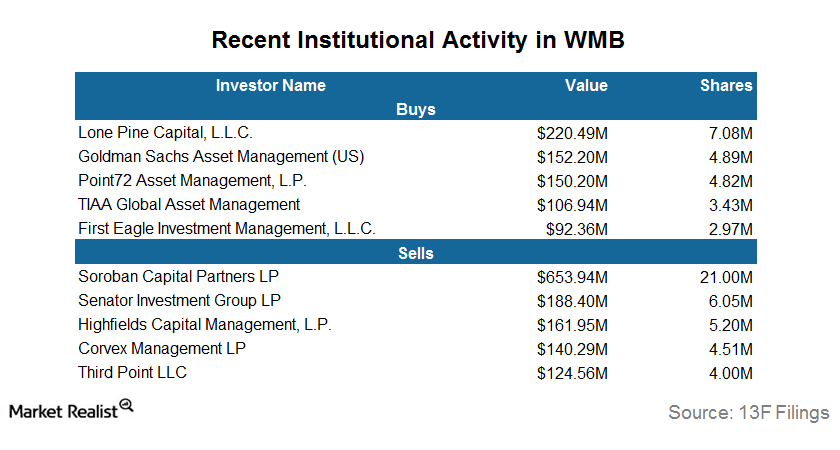 What Recent Institutional Activity in WMB Indicates
Number of holders
In this article, we'll analyze the institutional ownership of Williams Companies (WMB). The number of holders in WMB has fallen to 921 as of February 20, 2017, compared to 1,215 at the end of 2015. However, the number of outstanding shares held rose 13.0%.
Article continues below advertisement
Recent institutional activity in WMB
The recent institutional activity in WMB shows total buying of 23.2 million shares while 40.8 million shares were sold. These numbers indicate mostly negative sentiments for the stock. Lone Pine Capital and Goldman Sachs Asset Management were the biggest buyers with 7.1 million and 4.9 million shares bought, respectively, as per the latest filing on December 31, 2016. At the same time, Soroban Capital Partners and Senator Investment Group are the largest sellers with 21.0 million and 6.1 million shares sold, respectively. WMB peer Kinder Morgan (KMI) saw a similar selling with Warren Buffett's Berkshire Hathaway selling a major stake in the company.
Why are institutional investors bearish on WMB?
Institutional investors' bearishness towards WMB could be attributed to the following factors:
high leverage despite recent measures
declining throughput volumes caused by production-related shut-ins in some regions
removal of IDRs (incentive distribution rights) from Williams Partners' (WPZ) capital structure
distribution cuts by Williams Partners
high stock volatility
Top five holders
Fidelity Management & Research Company, Vanguard Group, State Street Global Advisors, BlackRock, and Tortoise Capital Advisors are among the top five institutional holders in WMB. Fidelity is the largest institutional holder in WMB. It alone holds 9.5% of outstanding shares in WMB as of December 20, 2017.