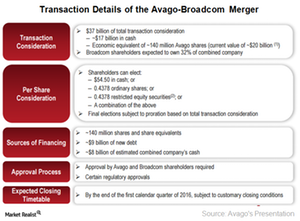 What Legal Challenges Does Broadcom Face?
By Puja Tayal

Updated
Avago-Broadcom merger
Broadcom (AVGO) is facing regulatory scrutiny for its Brocade Communications Systems (BRCD) merger. It isn't its first merger to face legal concerns. In the Avago-Broadcom merger, the combined company faced a shareholder class-action lawsuit for releasing a joint proxy statement that was false and misleading and did not include material information. Shareholders stated that Broadcom's board of directors was involved in this.
According to the merger agreement, shareholders had the option to either choose a combination of cash and ordinary shares or go for a restricted equity security, which they could not transfer or sell for one to two years after the deal is closed.
Article continues below advertisement
One thing the agreement did not mention was that the combination of cash and stock was subject to proration. Therefore, shareholders received around 54% cash and 46% stock, regardless of what they opted for. Broadcom settled this class-action lawsuit by agreeing to make several representations in its SEC (Securities and Exchange Commission) filings and reimbursing attorney fees and expenses incurred by shareholders for the lawsuit.
Amazon lawsuit
While Broadcom has settled the shareholder class action lawsuit, it is still fighting a patent infringement lawsuit it filed against Amazon (AMZN) on September 23, 2016. Broadcom alleged that Amazon infringed 11 patents related to video and graphics. Of these 11 patents, four were infringed by AWS (Amazon Web Services) cloud computing products such as Amazon CloudFront, and seven by Amazon.com consumer products such as the Amazon Dash Button, Fire tablets, and Fire TV.
Broadcom further claimed that Amazon refused to enter into any licensing deal over the above technologies. The chip maker seeks injunctive relief, damages, exemplary fees, and attorney fees from Amazon.
Article continues below advertisement
Amazon's and Broadcom's arguments
In December 2016, Amazon denied the infringement and claimed that the patents are invalid. In its defense, the company stated that Broadcom signed a customer agreement when it became an AWS customer. The agreement includes a promise that Broadcom would not assist a third party "in asserting any patent infringement against any AWS used by Broadcom." It also includes a promise that Broadcom would arbitrate any claims related to the services. Broadcom has breached this contract by filing a lawsuit.
In response, Broadcom stated that its claims are not subject to the agreement, and the agreement was signed by Broadcom, not Avago. To add to this, the agreement only covered the four patents infringed by AWS. The case is currently ongoing and could increase Broadcom's legal expenses in the coming quarters. Next, we'll see how Broadcom performed in fiscal 1Q17.