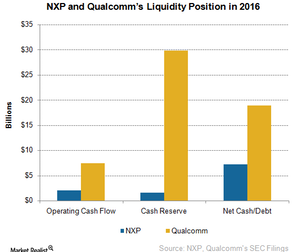 What Financial Fallout Could QCOM and NXP Face if the Deal Falls Apart?
By Puja Tayal

Updated
Merger cancellation could hurt Qualcomm and NXP
In the previous part of the series, we saw that regulatory and political issues could either delay or cancel the merger between Qualcomm (QCOM) and NXP Semiconductors (NXPI). Another possibility is that NXPI shareholders may reject the deal or the company gets a better offer that encourages it to cancel the deal with Qualcomm.
If NXP Semiconductors cancels the deal, it would be required to pay Qualcomm ~$1.3 billion as a cancellation fee. Similarly, if Qualcomm is not able to go through with the NXPI acquisition due to regulatory or financial issues, the former would be liable to pay the latter $2 billion.
Article continues below advertisement
Financial implications for NXPI
As seen from the chart above, NXP Semiconductors (NXPI) has total cash reserves of $1.6 billion and annual operating cash flows of $2 billion.
If NXPI cancels the Qualcomm deal, the ~$1.3 billion cancellation fee would put the company in a cash crunch, impacting its operational liquidity. This would also downgrade the company's credit rating, making it difficult for the company to borrow additional debt. In such a scenario, NXP shareholders could be unlikely to reject the Qualcomm offer.
Financial implications for Qualcomm
Qualcomm (QCOM) is a cash-rich company with $30 billion of cash reserves, $7.4 billion of annual operating cash flows, and $18.9 billion of net cash balance. Despite such strong liquidity, Qualcomm is taking on new debt of $11 billion to fund the all-cash NXPI acquisition of $38 billion. Qualcomm looks to maintain a cash reserve of $8 billion after the acquisition, which would require it to increase its cash reserves by $4 billion.
The situation has become complex as Qualcomm faces a $853 million fine from the Korean (EWY) FTC (Fair Trade Commission) and a $1 billion charge from Apple (AAPL). There is a possibility that the chip supplier may face more fines. These lawsuits may reduce its cash-generating capacity by reducing its royalty rates.
If Qualcomm fails to gather funds or if the deal is blocked due to these regulatory concerns, Qualcomm would pay a $2 billion cancellation fee to NXP Semiconductors. While this may not leave Qualcomm cash-strapped, it would push the company's operating cash flow into negative territory for at least two quarters.
While the Qualcomm–NXPI deal is facing challenges, NXP Semiconductors is continuing its efforts to grow. The company's growth efforts were visible at the CES (Consumer Electronics Show) 2017, where it unveiled a range of new products. We'll look into these products in the next part of this series.