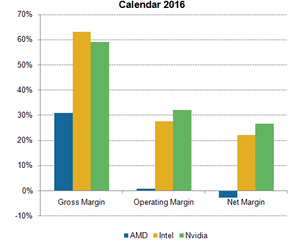 What Do AMD's Fundamentals Tell Us about the Stock?
By Puja Tayal

Updated
Is AMD's stock price backed by strong fundamentals?
Advanced Micro Devices (AMD) is setting its own tick-tock model of product launches, with Ryzen CPU (central processing unit) in March, Vega GPU (graphics processing unit) in May, and Naples CPU in June 2017.
If we look at the fundamentals of the market, AMD is walking the same path that Intel has already claimed. Innovation commands a price, and this is a power that AMD does not yet have in the PC space.
Article continues below advertisement
One area that looks promising for AMD is the data center market, however, as the company has the benefit of both CPU and GPU, which rivals Intel (INTC) and Nvidia (NVDA) do not have. This spells positive news for future growth opportunities for AMD and has pushed up AMD's stock price. But is the stock price growth backed by strong fundamentals?
AMD's fundamentals
AMD's stock has been trading at depressed levels since 2008 due to losses and high debt levels. However, when the company assured the market that its debt was manageable and reported some growth in revenue, its stock price shot up. It's currently trading at its nine-year high.
AMD took advantage of its high stock prices and raised money by issuing new equity to reduce its debt and lower its interest rate. The company reduced its long-term debt from $2.12 billion in fiscal 2015 to $1.56 billion in fiscal 2016 and increased its cash reserves from $785 million to $1.26 billion during the same period.
It is important to note, however, that AMD reduced its liabilities not by generating profits but by increasing its share count.
Article continues below advertisement
AMD's losses continue
AMD has now reduced its debt, lowered its interest expense, and is earnings a licensing fee from its Chinese (FXI) joint venture. Despite all this, it still continues to see losses. In fiscal 2016, it posted a non-GAAP (generally accepted accounting principle) net loss of $497 million.
Either AMD does not have pricing power over its competitors, or its expenses are too high, or both. Its aggressive pricing strategy is not able to generate enough volume to make sales profitable. Even if AMD reports double-digit revenue growth in fiscal 2017 and 2018, the stock price may not rise beyond this point if it is unable to return to profits.
AMD versus Intel and Nvidia
Under no circumstance, however, will AMD's stock price of $14.1 increase to the level of Intel's stock, which is trading above $36.0. Intel has far higher revenue and is highly profitable whereas AMD is barely reporting any profits.
Notably, Intel and Nvidia pay dividends and buy back shares, whereas AMD offers no dividend, or no buyback is in sight for the foreseeable future. In the next part, we'll take a closer look at AMD's revenues.