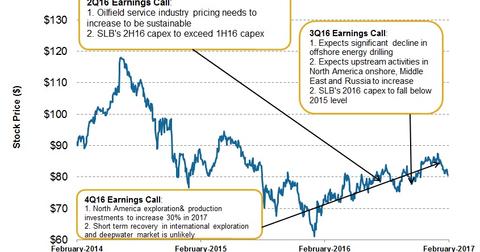 What Are Schlumberger's Management's Views on 2017?
By Alex Chamberlin

Updated
What does Schlumberger's management think?
Schlumberger's (SLB) management estimates that investment in energy drilling and production may not recover until 2017's end. It could even be delayed until 2018 based on the current demand-supply situation.
In SLB's 4Q16 earnings call, its chair and CEO, Paal Kibsgaard, commented, "Activity levels in key market segments such as exploration and deep water are at record lows and although we do not expect a dramatic short term recovery the trends can only be positive from this point on."
Article continues below advertisement
Kibsgaard continued, "In terms of geography, it is worthwhile to note that the earnings contributions from key international markets like Mexico, Venezuela, Brazil, Sub-Sahara Africa, China and Russia land have collectively dropped by more than 70% from Q4 of 2014 to Q4 of 2016, which by self represents a huge upside as the international recovery starts to unfold."
What are Schlumberger's views on North America? 
Schlumberger's management expects capital spending in the North American onshore market to improve in 2017. In SLB's 4Q16 earnings press release, Kibsgaard said, "E&P spending surveys currently indicate that 2017 NAM E&P investments will increase by around 30%, led by the Permian basin, which should lead to both higher activity and a long overdue recovery in service industry pricing."
SLB makes up 7.2% of the iShares US Energy ETF (IYE). The oil and gas equipment and services sector makes up 15.5% of IYE.
Article continues below advertisement
Is Schlumberger's focus shifting to North America? 
The exploration spending of North American upstream producers could rise 30% going forward. Higher US upstream activity should also improve oilfield service companies' prices and margins. In the international market, upstream producers will likely focus on full cycle returns and free cash flow.
Can SLB still gain from its Cameron acquisition?
In 4Q16, SLB recorded $188 million in operating income from Cameron, which it acquired in April 2016. SLB has already achieved its first year's target of $300 million in synergies, and it expects to exceed $600 million in synergies in 2017. 
Read about the details of the TechnipFMC (FTI) merger in Is FMC Technologies' Merger with Technip Almost Complete?
Next, we'll discuss Schlumberger's revenue and earnings.