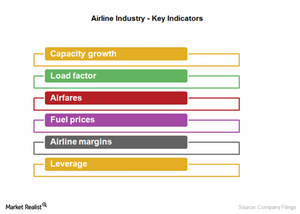 What Airline Investors Should Look Out for in 2017
By Ally Schmidt

Updated
Labor
Thanks to the oil price drop, labor costs now form the highest component of an airline's expenses. In such a scenario growing unrest among pilots and the union clout can end the airline party.
Article continues below advertisement
Fuel prices
Fuel costs now form the second major cost component of airlines. Airline margins have improved tremendously due to the 50% fall in crude prices and any further improvement will be restricted to the extent of a further fall in crude. Most analysts think this to be unlikely. In fact, most predict it to rise by second half of 2016. As explained previously, oil price rise can be both positive and negative. The magnitude of the event is what matters.
Capacity growth and utilization
Though capacity growth is a major revenue driver for airlines, it will be useless if airlines are unable to fill up these newly added seats. Overcapacity in the past has known to cause price wars among airlines, thus reducing yields.
Article continues below advertisement
Air fares
Declining load factors and unbridled capacity expansion result in pricing wars in the industry, which was the case seen throughout 2015. If air fares decline, yields would decline further. On the other hand, if airlines can increase air fares further, yields would improve.
Profitability
Most analysts are estimating airline margins to have peaked. There will be no problem if airlines are able to maintain margins at these levels. However, if profitability falls, valuation multiples will be impacted too.
Leverage
The airline industry has a bad reputation of being a capital destroyer. Many airlines have historically filed for bankruptcies including big ones like United Continental (UAL), American Airlines (AAL) and Delta Air Lines (DAL). In such a situation have leverage becomes riskier than it otherwise would have been.
We will provide regular updates on all the indicators mentioned above, so be sure to visit the Market Realist Airlines Page regularly.
The PowerShares Dynamic Leisure & Entertainment ETF (PEJ) invests ~5.0% of its portfolio in both Southwest Airlines (LUV) and United Continental Holdings (UAL), 4.6% in both Delta Air Lines (DAL) and American Airlines (AAL), and 2.8% in JetBlue Airways (JBLU).