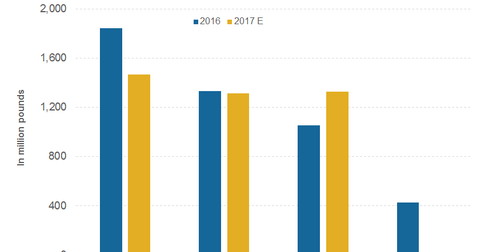 What a Complete Shutdown at Grasberg Could Mean for Freeport
By Mohit Oberoi, CFA

Updated
Grasberg mine
As we saw in Part 1 of this series, Freeport-McMoRan (FCX) is barred from exporting copper concentrates from its Grasberg mine (RIO) in Indonesia. Although exports have been halted for more than a month, the company has still been mining copper. Just lately, Freeport started talking about adjusting its mining rates.
Copper concentrates are bulky, and it would be difficult for Freeport to store them beyond a volume. It's worth noting that the Gresik copper smelter that processes almost a third of the concentrates from Grasberg is going through a labor strike.
Article continues below advertisement
What could a shutdown mean?
If Freeport-McMoRan completely shuts down its Grasberg mine, there could be a significant impact on the company as well as the global copper markets (RIO) (GLNCY). Freeport is expected to produce ~590,000 metric tons of copper at Grasberg this year.
BHP Billiton's (BHP) Escondida mine, which is also facing a labor strike, expects to produce 1.1 million metric tons of copper in fiscal 2017. BHP's fiscal year ends on June 30.
According to the International Copper Study Group, global mined copper production is expected to be ~20.0 million metric tons in 2017. A complete shutdown of the Grasberg mine and an extended Escondida strike could impact almost 9.0% of global mined copper production and potentially push global copper markets into a supply deficit this year.
Impact on Freeport
The Grasberg mine is expected to be Freeport's key earnings driver in 2017. Running at projected capacity, this Indonesian operation is expected to contribute more than 32.0% to the company's expected consolidated 2017 copper shipments (SCCO).
Given the high-grade ore and higher gold production, Grasberg operations are expected to add significantly to Freeport's 2017 profits.
You can read Freeport-McMoRan's 2017 Guidance: All You Need to Know to analyze how a shutdown at Grasberg could affect Freeport's 2017 plans.
You can also visit the Market Realist Copper page for ongoing updates on the industry.