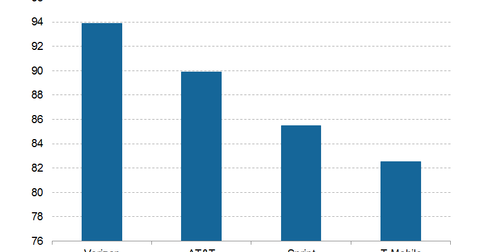 Verizon Still Has an Advantage in Network Performance Metrics
By Ambrish Shah

Updated
Verizon's network performance
Network performance is the key factor that affects customer retention. Verizon Communications (VZ) continues to lead the industry in network performance and reliability. The company continues to pursue its three-tier strategy. The foundation of the strategy is to protect and grow the company's position as the market leader in network connectivity with the goal of boosting profitability and financial flexibility.
Article continues below advertisement
Additionally, Verizon is focusing on an SDN (software-defined networking) approach to transform its network. SDN helps telecom (telecommunication) companies save costs and provide more flexibility. The approach requires them to virtualize their networks instead of spending on dedicated fixed hardware.
According to an analysis by RootMetrics and other third-party industry trackers, Verizon has the best wireless network in the United States.
According to the RootScore Report for the first half of 2016, Verizon came in at the top of all six network performance categories, which included overall performance, network reliability, speed, data, call, and text performance. It was the sixth consecutive time that Verizon was at the top.
RootMetrics' network performance results in first half of 2016
According to the RootScore Report for the first half of 2016, in the overall network performance category, Verizon scored outright wins in 41 states and tied with AT&T (T) and T-Mobile (TMUS) in seven states. Verizon won or shared first place in 274 of 300 state-level award categories.
At the national level, AT&T came in second in five of the six categories. However, in call performance, Sprint (S) beat AT&T to finish second.
PC Magazine's speed tests of all four carriers in 30 major cities indicated that Verizon's 4G (fourth-generation) LTE (Long-Term Evolution) network is the nation's fastest 4G mobile network for the second year in a row compared to AT&T, T-Mobile, and Sprint.