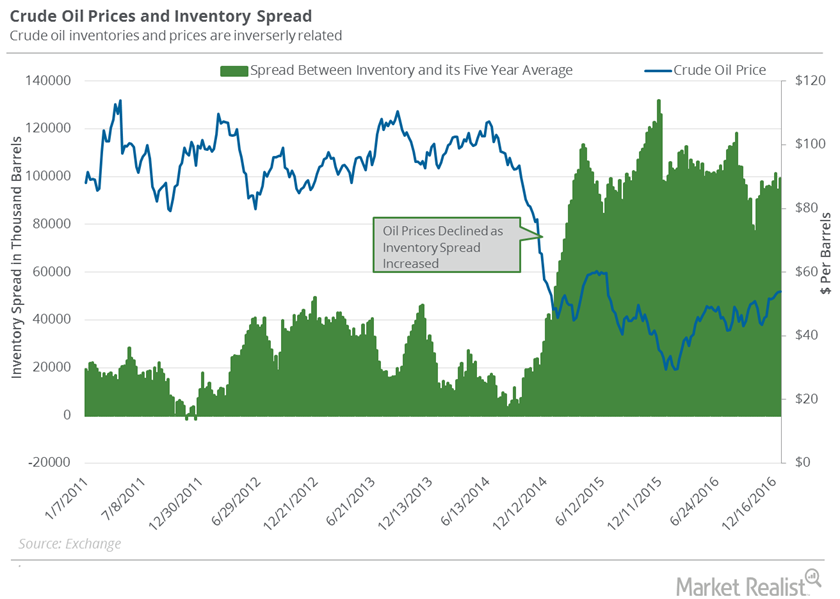 US Oil Inventories Spread Impacts Crude Oil Prices
Crude oil inventory data
US commercial crude oil inventories rose by ~6.5 MMbbls (million barrels) in the week ending January 27, 2017—compared to the previous week. Inventories were ~494.8 MMbbls for the week, according to data released by the EIA (U.S. Energy Information Administration) on February 1, 2017. US crude oil inventories rose for the fourth consecutive week.
Article continues below advertisement
Inventory spread and crude oil
The relationship between crude oil inventories and crude oil prices is inverse, as you can see in the above graph. The spread between crude oil inventories and their five-year average widened starting in January 2015 after it broke four-year highs and hit record levels. During that period, crude oil prices (USO) (OIIL) (SCO) (UCO) (BNO) were falling.
Crude oil prices bottomed out in early 2016. Crude oil inventories topped out as well. The inverse relationship was also seen in smaller magnitudes in the following months.
Inventory data
It will be interesting to see the impact of the EIA's report for the week ending February 3, 2017. The data will be released on February 8, 2017. A rise in the inventory spread would pressure crude oil prices. Analysts' estimates suggest a rise of 2.7 MMbbls in US oil inventories for the week ending on February 3, 2017.
As we discussed in Part 1, the API reported a build in inventories by 14.2 MMbbls. The rising oil inventory spread will pressure crude oil prices. If the EIA reports a large build in inventories, US crude oil prices could test $50.
Impact on ETFs
So, crude oil inventories, that exceed their historic averages, are important for ETFs such as the United States Brent Oil ETF (BNO), the PowerShares DWA Energy Momentum ETF (PXI), the Energy Select Sector SPDR ETF (XLE), the Guggenheim S&P 500 Equal Weight Energy ETF (RYE), and the ProShares UltraShort Bloomberg Crude Oil (SCO).
In the next part, we'll analyze the relationship between crude oil and the US Dollar Index (UUP).