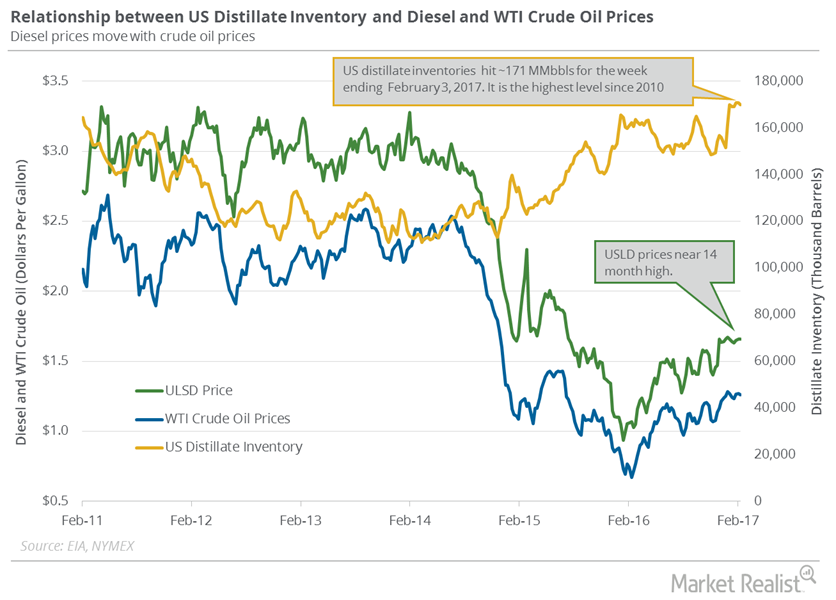 US Distillate Inventories Are near a 7-Year High
By Gordon Kristopher

Nov. 20 2020, Updated 11:20 a.m. ET
US distillate inventories 
The EIA (U.S. Energy Information Administration) reported that US distillate inventories fell by 0.7 MMbbls (million barrels) to 170.1 MMbbls from February 3–10, 2017. US distillate inventories hit 170.7 MMbbls in the week ending February 3, 2017—the highest level since 2010. Surveys estimated that US distillate inventories would have fallen by 0.7 MMbbls from February 3–10, 2017.
High distillate inventories put a lid on diesel prices. March diesel futures rose 0.5% to $1.63 per gallon on February 15, 2017. Gasoline, crude oil (RYE) (FXN) (ERY), and diesel prices usually move together. Volatility in crude oil and diesel fuel prices impacts US refiners and crude oil producers' earnings like Valero Energy (VLO), QEP Resources (QEP), Synergy Resources (SYRG), Phillips 66 (PSX), and PDC Energy (PDCE). For more on crude oil prices, read Part 1 of this series.
Article continues below advertisement
Heating oil 
Distillate consists of diesel fuel and heating oil. The EIA reported that US residential heating oil prices were flat at $2.64 per gallon for the week ending February 13, 2017—compared to February 6, 2017.
Distillate production and demand  
US distillate production fell by 271,000 bpd (barrels per day) to 4,531,000 bpd from February 3–10, 2017. US distillate imports rose by 7,000 bpd to 216,000 bpd for the same period. Weekly distillate demand fell by 57,000 bpd to 3,853,000 bpd for the same period.