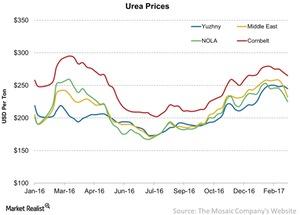 Urea Prices Reversed in the Week Ended February 24
By Adam Jones

Feb. 27 2017, Updated 5:36 p.m. ET
Urea fertilizer
Urea is the most globally used nitrogen fertilizer. According to the International Fertilizer Industry Association, urea accounts for 56% of all nitrogen fertilizers consumed globally. CF Industries (CF) is one of the largest producers of nitrogen fertilizer.
During the week ended February 24, 2017, urea prices were broadly negative. Let's look at how nitrogen fertilizer (SOIL) (DJIA-INDEX) prices fared last week.
Article continues below advertisement
Granular urea
Movements in granular urea prices at the three locations in the above chart were negative week-over-week. Overall, prices fell by an average of 4.6% from the week prior. In the Middle East, granular urea prices fell 6.8% to $232 per metric ton. NOLA (New Orleans) granular prices fell 5.1% to $204 per metric ton compared with $215 per metric ton the week before. Similarly, urea prices in the US Corn Belt fell 1.9% to $240 per metric ton.
Last week, urea prices saw a significant reversal. Lower prices are a negative for nitrogen producers. Companies such as CF Industries, Terra Nitrogen (TNH), CVR Partners (UAN), and PotashCorp (POT) are negatively impacted when nitrogen prices fall. Granular urea prices at the three locations in the above graph fell 8.3% YoY (year-over-year).
Prilled urea
Last week, prilled urea prices also fell 161 basis points to $245 per metric ton in the Yuzhny area of Ukraine. Prices at Yuzhny have risen 12% YoY. Next, let's take a look at natural gas prices.