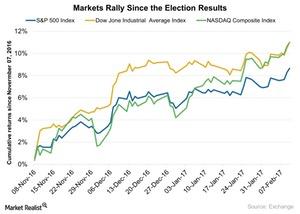 Understanding the Role of Economic Indicators in Market Direction
By Mary Sadler

Feb. 14 2017, Updated 7:38 a.m. ET
Which indicators provide bullish market sentiments?
In a recent interview on February 10, 2017, Evercore ISI's Ed Hyman shared his views on the markets and President Donald Trump's economic agenda on CNBC's "Squawk on the Street." This top strategist (as ranked by an investor's poll of investors for economics) stated that he is bullish on the stock market for 2017. He also expects, in the near term, an ~80% probability on corporate tax reform to be implemented by the Trump administration.
Article continues below advertisement
Markets have rallied on Trump's announcements
The major stock indexes rallied after the announcement by the Trump administration about corporate tax reform. The administration has promised phenomenal tax reforms during a meeting with top airline executives in the White House. Since his election, notably, markets (SPY) (QQQ) have been swaying on announcements from the new administration.
Positives of macroeconomic indicators
The S&P 500 index (SPX-INDEX) has risen ~8% since November 8, 2016. The Dow Jones Industrial Average index (DJIA-INDEX) and NASDAQ Composite index (COMP-INDEX) have risen ~10%. Markets have thus responded positively so far to the new administration's announcements.
But the market's reactions have also been related to other macroeconomic factors connected the Obama administration. Below are a few important multifactor advances that we've seen extended from Obama's policies:
Consumer sentiment in January 2016 reached a 13-year high at 98.5.
Personal income and consumer spending rose 0.3% in December, as compared to the previous month.
Wages and salaries grew by 0.4% in December.
According to Hyman, the markets are surging with the momentum gained in last quarter of 2016 and with the expectation of tax cuts, the interest rate hike, and deregulation. The top gainers in the first week of February 2017 include Teradata (TDC) and Allegion (ALLE), while the top losers included Dun & Bradstreet (DNB) and Coty (COTY).
Now let's look at the performance of the financial sector under the new Trump administration.