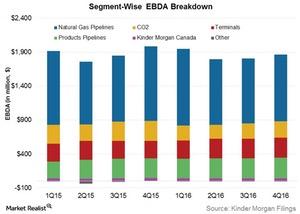 Understanding Kinder Morgan's Segment-Wise Performance
By Rekha Khandelwal, CFA

Feb. 15 2017, Updated 4:35 p.m. ET
KMI's Natural Gas Pipelines segment
Kinder Morgan (KMI) carries out its operations through five reportable segments. Natural Gas Pipelines is Kinder Morgan's largest business segment in terms of EBDA (earnings before depreciation and amortization). The segment gathers, processes, transports, and stores natural gas as well as fractionates and transports NGLs (natural gas liquids).
In 4Q16, the segment alone accounted for 53% of the company's total EBDA.
Article continues below advertisement
KMI's Natural Gas Pipelines' segment's EBDA fell 10% YoY (year-over-year) in 4Q16. The fall was driven by the sale of 50% interest in SNG (Southern Natural Gas) and reduced volumes on certain midstream gathering and processing assets, primarily due to increased Canadian imports to the Pacific Northwest, lower Eagle Ford Shale volumes, and lower production in the Rocky Mountain region.
CO2 segment
The above graph shows the segmental contribution to KMI's EBDA over the past eight quarters. KMI's CO2 segment primarily produces, transports, and markets CO2 to oil fields, which is used to enhance recovery of crude oil from mature oil fields.
KMI's CO2 segment reported an 18% YoY decline in EBDA in 4Q16. The fall was primarily driven by lower commodity prices.
Article continues below advertisement
Terminals segment
KMI's Terminals segment owns and operates liquids and bulk terminals. The segment's EBDA rose 15% in 4Q16 over 4Q15.
Products Pipelines segment
KMI's Products Pipelines segment's EBDA rose 7% in 4Q16 over 4Q15. The segment primarily transports refined products.
Kinder Morgan Canada
The segment owns and operates the Trans Mountain pipeline system that transports crude oil and refined products from Alberta, Canada, to marketing terminals and refineries in British Columbia, Canada, and the state of Washington. The segment reported a 12% fall in 4Q16 EBDA.