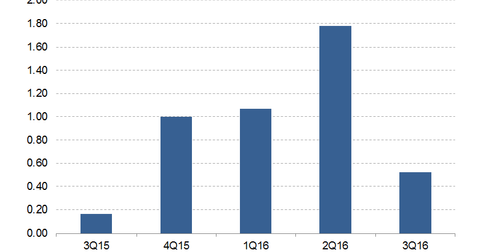 Understanding IBM's Patent Royalties Stragegy
By Ruchi Gupta

Feb. 9 2017, Updated 7:37 a.m. ET
IBM awarded the most patents in 2016
While the very mention of International Business Machines' (IBM) Strategic Imperatives typically brings to mind cloud computing, Watson, security, and enterprise mobility, it appears that patent royalties could lend a great deal of color to these newer businesses.
According to patent data experts at IFI CLAIMS Patent Services, IBM was awarded the most patents in 2016, and those patents cover a broad line of technology areas, including mobile. Experts say IBM was awarded 8,088 patents last year, meaning that the company received 22 patent approvals each day of 2016. Samsung (SSNLF) came a distant second-place in the patent count, with 5,518 patent awards in 2016.
Joining IBM and Samsung on the list of top ten companies by number of patent approvals in 2016 were Canon (CAJ), Qualcomm (QCOM), Alphabet (GOOGL), Intel (INTC), LG Electronics, Microsoft (MSFT), Taiwan Semiconductor (TSM), and Sony (SNE). Notably, Apple (AAPL) did not make the top ten list.
Article continues below advertisement
Source of incremental income
Although not every patent features in a market product, patents have become a crucial source of income and frustration for many technology companies. Legacy technology companies are finding that they can generate incremental income by monetizing their intellectual properties to offset declining sales elsewhere.
Nokia (NOK), which lost the smartphone war to Apple and Samsung, is now pursuing Apple over alleged copyright infringement. Analysts see Nokia's actions as motivated by the desire to raise the profile of Nokia Technologies at a time when the company's core business of selling networking equipment is cooling.
As for IBM, patent royalties could come as a great boost to the company's nascent strategic businesses.
Strategic imperatives grow 14%