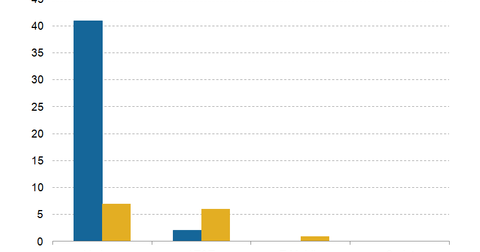 Understanding AT&T's Key Network Performance Indicators
By Ambrish Shah

Updated
AT&T's network performance
Network performance is a key factor affecting customer retention. AT&T (T) continues to invest in improving its network and is focusing on an SDN (software-defined networking) approach to transforming its network.
SDN helps telecom companies save costs and provide more flexibility, as this approach requires them to virtualize their networks instead of spending on dedicated fixed hardware. AT&T's penetration in SDN rose to 34% by the end of 2016 and expects to reach 75% by 2020.
In the past, AT&T has spent heavily on its Project Velocity IP, or VIP, a program aimed at upgrading its wireless and wireline broadband infrastructure. AT&T claims that its network now has 70,000 cell sites—much more than any competitor.
Notably, the company has now expanded its LTE (long-term evolution) reach to Mexico, which means that AT&T's 4G LTE footprint now covers more than 400 million people in North America.
Article continues below advertisement
RootMetrics network performance results in 1H16
Based on the first half of 2016 RootScore report, in overall network performance category, AT&T managed to score outright wins in two states while tying with Verizon Communications (VZ) and T-Mobile (TMUS) in six states. At the national level, AT&T came second in five out of six categories, including overall performance, network reliability, speed, data, and text performance.
In call performance, Sprint (S) beat AT&T, but AT&T has remained a strong position behind Verizon for six consecutive test periods. Verizon came out on top across all six network performance categories.
Fewer awards?
AT&T recorded a fall in won or shared state-level awards from 110 to 82 during the first half of 2016, as compared to the second half of 2015. This fall in awards came in network reliability, call, and text performance categories.
AT&T's count of state-level awards trailed that of only Verizon, who won or shared 274 awards, and it was far higher than the counts of state-level awards won or shared by Sprint and T-Mobile.