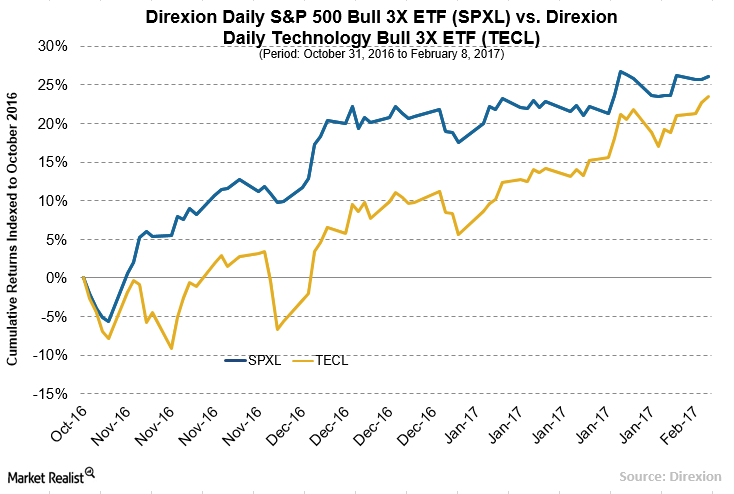 How Trump's Trade Moves Could Affect Some Sectors
Direxion
Buy American, Build American, Hire American
Donald Trump's goal of bringing jobs back to the US has had some positive and some negative consequences. Trump and the Republicans' potential plan to place a tariff on goods coming into the country possibly from Mexico and possibly from China has had somewhat of a dampening effect on the consumer space. This kind of tax would possibly amount to a tax on the consumer if prices had to be raised because of the tariffs. It will be interesting to see how this plays out in a newly launched product like the SPLZ (Daily Consumer Staples 1x Bear).
Article continues below advertisement
President Trump has also touted a large infrastructure spending plan. He wants to rebuild infrastructure in the US – infrastructure that he has repeatedly called a "disaster" and "third-world". Again, the implications are that this work will obviously be done in the US, by US workers, using US products like steel and cement.
The administration's plan to ban travel from seven countries and possibly limit work visas from some other countries has somewhat impacted technology companies as well, not to mention Trump's goal to have manufacturing, particularly high tech manufacturing, return to the country. This may require some tech companies to deploy capital building out supply chains and factories here in the US. Even though the technology segment has gone up, it initially dipped and has unperformed the broader market. And at some periods was trailing the overall maker by quite a gap.
President Trump's proposal to spend heavily on infrastructure could have significant implications on the materials (IYM) and industrials sectors. Also, protectionism could cause other countries to retaliate, possibly leading to a trade war. That would negatively affect consumer companies (SPLZ) that do a lot of business abroad. Remember, S&P 500 (SPXL) companies generate about 50.0% of their revenues from outside the United States.
Trump wants to impose heavy tariffs on companies that move their operations south to Mexico and a jaw-dropping 45.0% tariff on Chinese exports to the United States. Technology (TECL) stocks have taken a hit because computers and electronics are America's second-highest export to China.